Bosch Dishwasher SMS88TI30M
Key Information
Capacity:

13 Place Settings

Full size dishwasher

Control Type:

Touch Control

Noise Level:

40 dB

30 - 45 dB (Quiet model), 46 - 55 dB (Normal model), 56 and above (Noisy model)

Water Consumption:

7.5 Litres

15 Litres and less is considered to be efficient diswasher

Weight:

56 kg

Dimensions (H x W x D):

850 x 600 x 600 mm

Energy Rating:

A+++

Higher the Star Rating, better the Refrigerator will work according to energy efficiency

Color:

Silver

Delivery Lead Time: within 5 days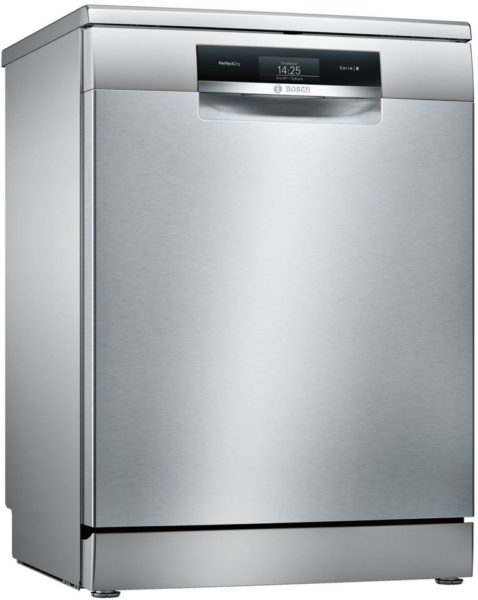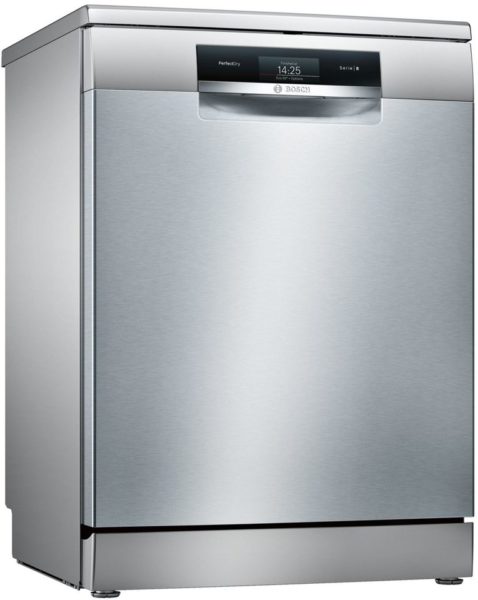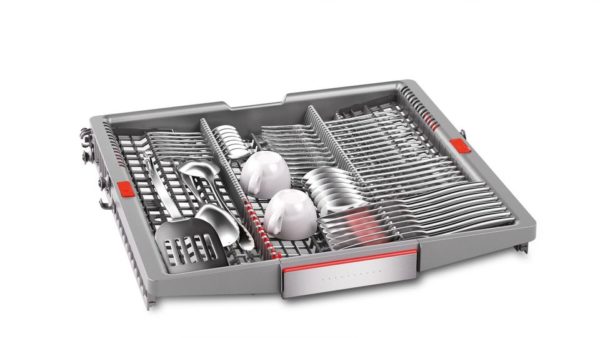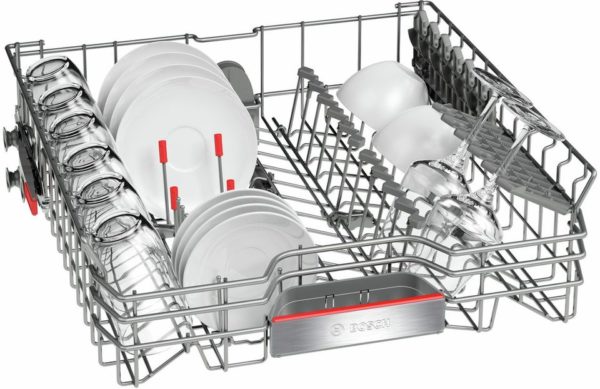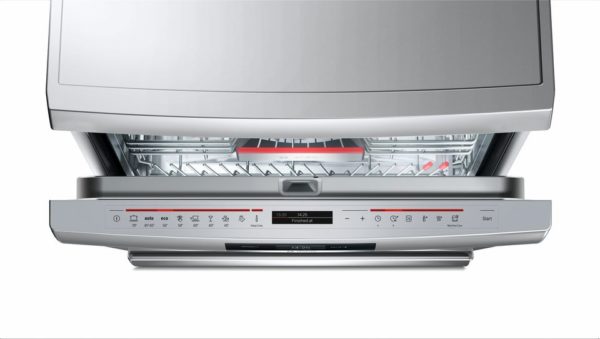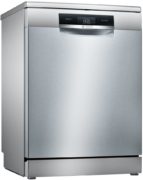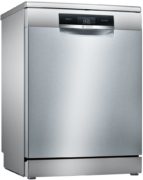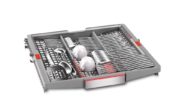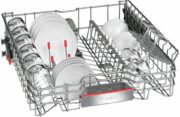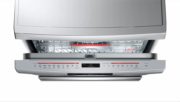 Zeolith® Drying: perfect drying results thanks to 3D air flow, even on plastic dishes Super 60°C programme: brilliant cleaning and drying results. HygienePlus option: rinsing with higher temperatures for highest hygienic performance. SuperSilence: exceptionally quiet operation at only 42 dB. VarioFlex Pro basket system & VarioDrawer Pro: visibly more flexibility & loading capacity.
AquaSensor: stain detection for brilliantly clean dishes.
The AquaSensor regulates the water usage depending on the type and degree of soiling, using light beams to manage the rinse. Depending on remaining food particles, grease or detergent residues in the rinse, the rinsing process is assessed to evaluate whether it needs to be continued.
Automatic programmes ensure automatically the best cleaning performance.
Water usage, water temperature and rinse time are adjusted exactly to suit the level of soiling. This provides best results while saving water and energy.
AquaStop with 100% lifetime guarantee against water damage.
The AquaStop system consists of a double-walled supply hose, a safety valve, as well as a floor sump with float switch, offering 100% protection against water damage. Guaranteed by Bosch for lifetime.
LoadSensor automatically saves water and energy for fewer dishes.
The load weight is detected by a rotary speed sensor which recognizes the water level. For bigger loads, more water is needed to soak the dishes and the water level decreases. In that case more water is added. For smaller loads, less water is needed for rinsing. The load sensor provides for optimal water usage even for half loads or partial loads, saving water and electricity.
EcoSilence DriveTM: powerful, durable, quiet and efficient.
To increase our cleaning efficiency we have developed the economical EcoSilence DriveTM. It is exceptionally quiet, efficient and guarantees low electricity consumption. The EcoSilence DriveTM works without brushes is ultra silenct and top results are automatically guaranteed.
More protection for your glasses with the Glass Rack.
The Glass Rack allows you to safely store extra high glasses, bottles or vases in the lower basket.
Glass 40° program
The Glass 40 °C program gently cleans glasses like high-quality crystal while providing optimal drying and achieving a brilliant shine. This is made possible by lowering temperatures, adjusting the rinse-agent's temperature, and extending the drying period. Shiny glasses and residue-free drying are clear proof of a brilliant and gentle cleaning result.
Child lock on door prevents unintended door opening during rinsing.
A child-proof door lock prevents the door from being opened and the programme being altered during the cycle. This prevents injuries caused by hot steam and accidental adjustments to the programme settings.
Resource-saving water management: optimal cleaning at low water consumption.
Resource-saving water management with intelligent water usage achieves minimal consumption per wash cycle: for example the ActiveWater Eco dishwasher uses only 6 litres of water in the standard programme with optimised hygienic cleaning.
Easy pre-select programme start for the desired start time.
With the time delay function you can pre-select the programme for the desired start time. This allows you to handle your appliance conveniently, at any time during the day, during work hours or at night. After the start of the programme a display indicates the precise remaining time.
SuperSilence: exceptionally quiet operation at only 40-45 dB.
The electronically operated engine and many noise reduction measures, secure the exceptionally quiet operation of our SuperSilence dishwashers. Advantageous for eat-in kitchen or open areas.
TFT display gives you quick information on dishwashing progress, time remaining and saving water and energy.
The multicoloured TFT display provides information quickly. With pictures and easily legible type, it shows what cycles and options were selected, the dishwashing progress, time remaining, and much more. Handy instructions guide users through cycles and offer useful information on the best use of the dishwasher, and on saving water and energy. In addition, the display shows the salt and rinse aid levels.
Rinses three times faster with optimum cleaning and drying results with VarioSpeed Plus.
Use the VarioSpeed Plus option to wash and dry a full load of dishes perfectly clean in the shortest of time. Rinse time is reduced at the push of a button by up to 66% with the usual high cleaning efficiency. Simply activate the VarioSpeed Plus option when you need dishes fast, e.g. at family celebrations or birthday parties.
PerfectDry based on Zeolith®
Perfect drying performance for your dishes with an even, strong, yet gentle 3D air flow. PerfectDry dishwashers based on Zeolith® take in humidity and transform this into warm air. Your dishware and even plastic dishes, come out of the dishwasher brilliantly clean and perfectly dry. PerfectDry based on Zeolith® delivers perfect results over the entire lifespan of your dishwasher.
Heat Exchanger: always the right temperature for optimal dish care.
Dishwashers with heat exchangers treat precious glasses and porcelain with particular care and no risks. Water is pre-heated in the rinsing tank to avoid any temperature shocks.
Visibly more flexibility and better use of space
The movable parts are red or grey, depending on the dishwasher model.
Simple protection for the feed hose.
The simple AquaStop hose consists of a double-walled feed hose, a mechanical valve in the feed hose and a visual display. Water running out collects in the hose casing and causes a sponge to swell up, which then stops the flow of water mechanically.
Less water, less energy, better performance.
Bosch's innovative ActiveWater technology maximises efficiency to produce outstanding results whilst protecting the environment. With carefully targeted water distribution, improved filter technology, faster heating and increased pump output for more water circulation, ActiveWater dishwashers give superb results.
Main
Brand
Bosch
Color
Silver
General
Type
Standard Dishwasher
Capacity
13 Place Settings
Features
Features
6 cleaning temperatures | ActiveWater hydraulic system | Zeolite Drying | BLDC motor for heat and drain pump | AquaSensor, Load Sensor | Detergent Automation | Heat exchanger | Alternating spray | Regenerative electronics | Self-cleaning filter system with 3-fold corrugated filter | Stainless steel | Push button top controls | TFT Display inside | Acoustic end of cycle indicator | Real Time Clock | LED colour on indicators red/- | Electronic delay timer: 1-24 hours | LED salt refill indicator
Additional Features
3rd Rack 2.1 | Silver XXL baskets | Rackmatic 3-stage | 6 foldable plate racks in top basket | 8 foldable plate racks in bottom basket | 2 lever (long/short) 2 | 2 shelves in bottom basket | Glass rack one-piece
Wash System
Number of Wash Options
8
Control Type
Touch Control
Half Load Wash Option
Yes
Water Consumption
7.5 Litres
Physical
Display
Digital
Dimensions (H x W x D)
850 x 600 x 600 mm
Power
Power Supply
220-240 Volts
Hertz
50 Hz
Energy Rating
A+++
Power Consumption
2400 Watts
Noise Level
40 dB
Other
Country of Origin
Germany
Weight
Weight
56 KILOGRAM