Bosch Dryer 7 kg WTE84106GC
Key Information
Type:

Condenser Dryer

It collects moisture from wet clothes and drain it away

Capacity:

7 kg

Power Consumption:

2100 Watts

Noise Level:

66 db

It is level of noise produced by your Laundry (Lower the value, lesser will be the noise), 50dB is normal

Color:

White

Delivery Lead Time: within 5 days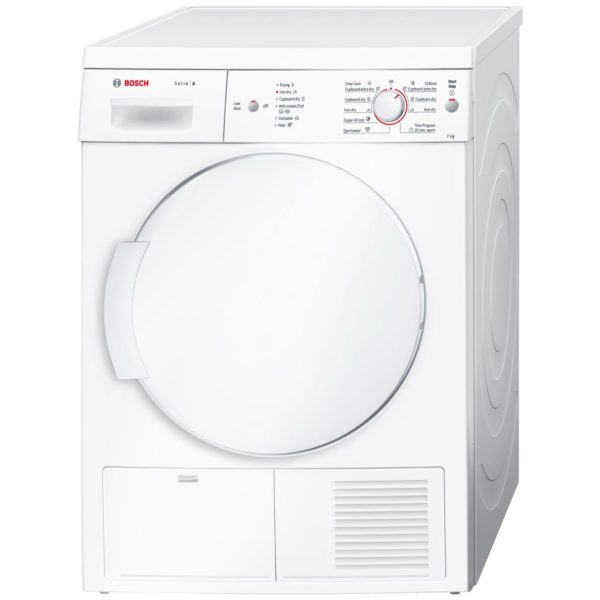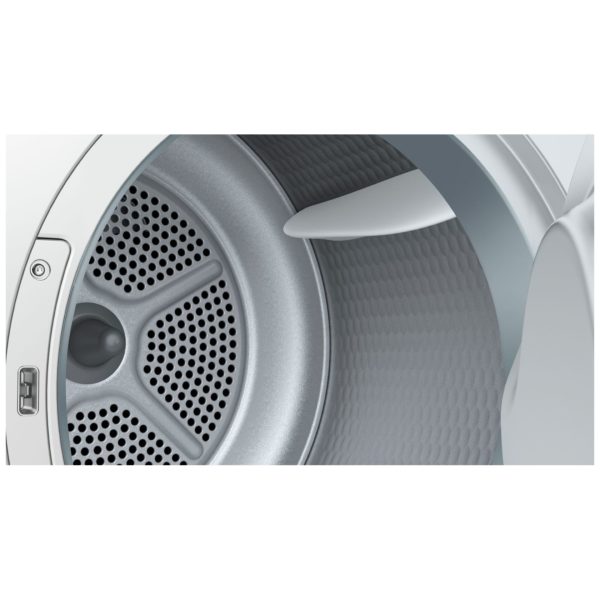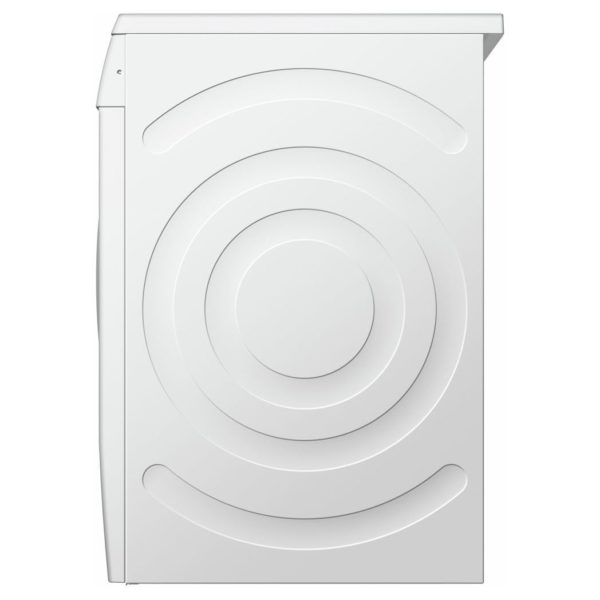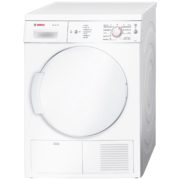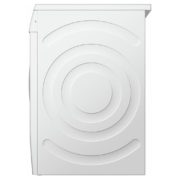 The programme Cottons cupboard dry used at full and partial load is the standard drying programme to which the information in the label and the fiche relates, this programme is suitable for drying normal wet cotton laundry and is the most efficient programme in terms of energy consumption for cotton.
Fabric-friendly drying with the Sensitive Drying System.
With the Sensitive Drying System, laundry is dried by mild, warm air coming from all sides and gently mixed by the curving Soft carriers, instead of lying flat on the fabric-friendly drum structure. The result is soft laundry with no creases.
AntiVibration sidewall: more stability and less vibration.
The new design of the side walls is not only eye catching: the system also provides more stability and reduces vibration. The enhanced insulation also regulates noise levels, making Bosch Logixx and Avantixx very quiet even during the spin cycle.
ECARF Quality Seal: specially developed with allergy sufferers and sensitive skin in mind.
AntiVibration™ Design: highly stable and extremely quiet thanks to special vibration protection.
SensitiveDrying System: gently dries laundry to exactly the degree of dryness you want.
TouchControl buttons: convenient to operate thanks to the electronic control panel.
SoftDry drum system: soft, even drying thanks to the unique drum structure.
Main
Brand
Bosch
Color
White
General
Type
Condenser Dryer
Loading Type
Front Load
Capacity
7 kg
Power Supply
220-240 Volts
Frequency
50 Hz
Power Consumption
2100 Watts
Noise Level
66 db
Programs
Anti crease cycle 120 min at the end of the programme | Touch control buttons: Start/Stop, Low Heat | Special programmes: sportswear, 20min warm, Super 40
Dimensions
Dimensions (H x W x D)
842 x 598 x 601 mm
Features
Features
Electronic humidity control | Condenser Dryer
Others
Country of Origin
Turkey
Others
Convenience and Safety : DUO-Tronic | Active flow drying system: Big Galvalume with textile care structure, soft design paddles | LED programme progress indicator and service notes | Fully electronic control dial for sensor drying programmes, timed and special programmes | AntiVibration Design: More stable and silent | Protection filter for condensor | Round door, door hinge on right white | Door hinge: right-hand | Metal door closing hook
Weight
Weight
38 KILOGRAM