Bosch Standard Dishwasher SMS6ECW38M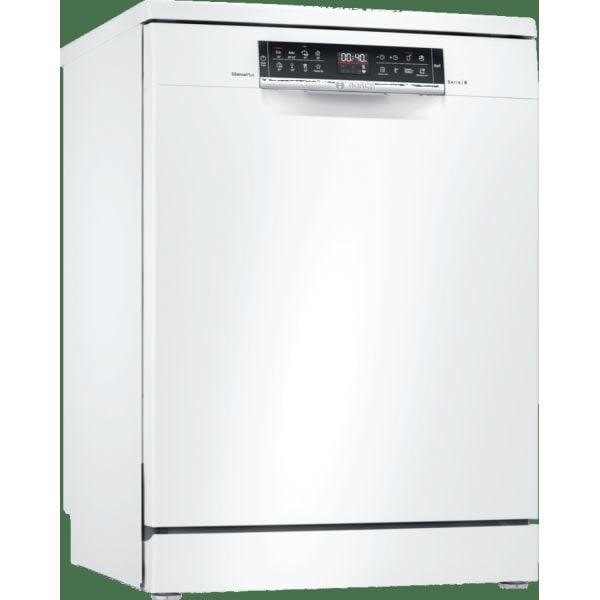 Roll over image to zoom in
Click to expand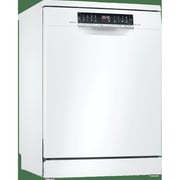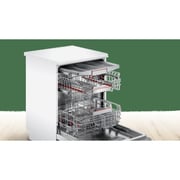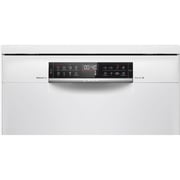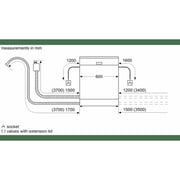 Easy Payment Plans
Starting from

AED 317.42

/month

The final amount depends on your bank
Details
FREE Shipping
Delivery 10 December
Secure Transaction
{{badgeTamara}} Pay {{numberOfInstallments}} interest-free payments of {{repaymentAmount}}. {{learnMoreLink}}
Other Sellers
FREE Shipping
Estimated Delivery 12 Dec - 14 Dec
Sold by
New Generation Electronics
Key Information
Color:

White

15 Litres and less is considered to be efficient diswasher

Water Consumption:

7.4 l

Full size dishwasher

Capacity:

13 Place Settings

Star Rating:

5 Stars

Control Type:

Touch Control

Dimensions (H x W x D):

84.5 x 60 x 60 cm
Details
Space for cutlery and small kitchen utensils in the VarioDrawer.
Thanks to the retractable VarioDrawer the third loading level, ActiveWater dishwashers are even more comfortable. It is the ideal place for cutlery and smaller kitchen utensils, e.g. ladles or whisks. This gives you more flexibility when loading your dishwasher and makes more space inside the washing compartment. The cutlery basket in the lower basket can be replaced by the VarioDrawer to create capacity for up to 14 place settings for 60cm dishwashers and 10 place settings for 45 cm dishwashers.
Height-adjustable up to 5 cm at 3 levels even with a fully loaded top basket
Thanks to the triple Rackmatic system, the height of the top basket can easily be adjusted by up to 5 cm. And you can do this when it's fully loaded. That means even more adjustment options and thus maximum flexibility.
Silence program
The silence program is the quietest way to run your dishwasher. By activating it, you automatically reduce the noise levels of your dishwasher to the lowest minimum possible. This is achieved by an especially adapted Eco 50 °C program, a reduced spray pressure and extended cleaning phase.
The right recommendation for the right job.
Selecting the right wash program for your dishwasher can not only be confusing, but can often result in less than perfect cleaning results. Home Connect with Easy Start function takes the guesswork out of this job and always recommends the right program to you – directly from your mobile device. Every time. And with every wash. The only thing you need to do is enter the degree of soiling and the type and quantity of the dishes or cutlery being washed in your Home Connect app. So you can easily choose the right program and get perfect results, cycle after cycle.
The dishwasher that keeps count for you.
Running out of dishwasher tablets is the last thing you want when you need clean dishes. The Tab-Count feature on the Home Connect app tracks your consumption and informs you via push notification when you´re down to your last five tablets according to your last purchase. Via direct link, you can conveniently reorder a new pack. Finally, a dishwasher that looks after itself.
AquaStop with 100% lifetime guarantee against water damage.
The AquaStop system consists of a double-walled supply hose, a safety valve, as well as a floor sump with float switch, offering 100% protection against water damage. Guaranteed by Bosch for lifetime.
Less water, less energy, better performance.
Bosch's innovative ActiveWater technology maximises efficiency to produce outstanding results whilst protecting the environment. With carefully targeted water distribution, improved filter technology, faster heating and increased pump output for more water circulation, ActiveWater dishwashers give superb results.
EcoSilence DriveTM: powerful, durable, quiet and efficient.
To increase our cleaning efficiency we have developed the economical EcoSilence DriveTM. It is exceptionally quiet, efficient and guarantees low electricity consumption. The EcoSilence DriveTM works without brushes is ultra silenct and top results are automatically guaranteed.
10-Year Rust-Through Warranty
We have developed special surface treatments and production processes that are precisely tailored to the materials used in the interior of our dishwashers. As a result, a 10-year guarantee against rust through of the inner cavity, from the inside out, on all our dishwashers can be offered. This guarantee can be activated for all dishwashers purchased from 01.01.2012 onwards.
DosageAssist ensures optimum results thanks to effective dissovlving of the cleaner tab.
The DosageAssist ensures optimal cleaning results and a quieter wash. The detergent drops out the detergent dispenser and into a special tray on the top basket where it gets completely dissolved.
Automatic programmes ensure automatically the best cleaning performance.
Water usage, water temperature and rinse time are adjusted exactly to suit the level of soiling. This provides best results while saving water and energy.
Easy pre-select programme start for the desired start time.
With the time delay function you can pre-select the programme for the desired start time. This allows you to handle your appliance conveniently, at any time during the day, during work hours or at night. After the start of the programme a display indicates the precise remaining time.
HygienePlus option: Rinsing with higher temperatures for highest hygienic performance.
HygienePlus is a new option that can be activated in many programmes, and guarantees maximum hygiene thanks to antibacterial cleaning. This effect is achieved by a higher temperature level of up to 70°C during rinsing, sustained for approximately 10 minutes. HygienePlus is therefore ideal for people with high hygiene standards, for instance in households with small children or allergy sufferers.
Resource-saving water management: optimal cleaning at low water consumption.
Resource-saving water management with intelligent water usage achieves minimal consumption per wash cycle: for example the ActiveWater Eco dishwasher uses only 6 litres of water in the standard programme with optimised hygienic cleaning.
SuperSilence: exceptionally quiet operation at only 40-45 dB.
The electronically operated engine and many noise reduction measures, secure the exceptionally quiet operation of our SuperSilence dishwashers. Advantageous for eat-in kitchen or open areas.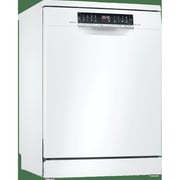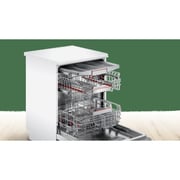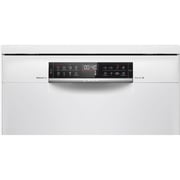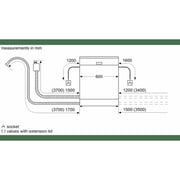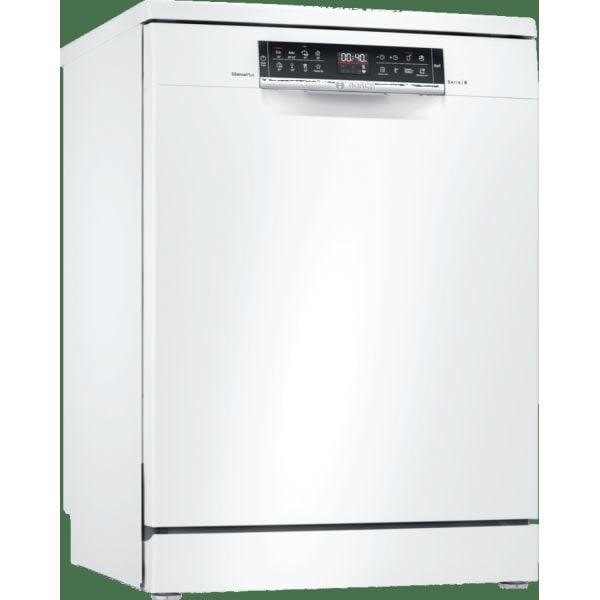 Product Overview
Overview