Key Information
Type:

Wrist Watch

Watches For:

Men

Display Type:

Analog

Water Resistant Depth (m):

200 m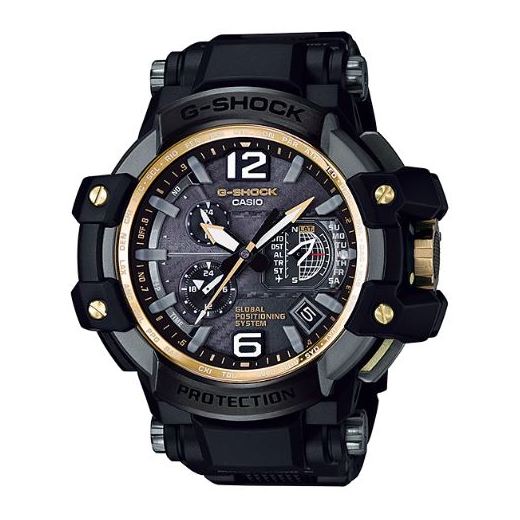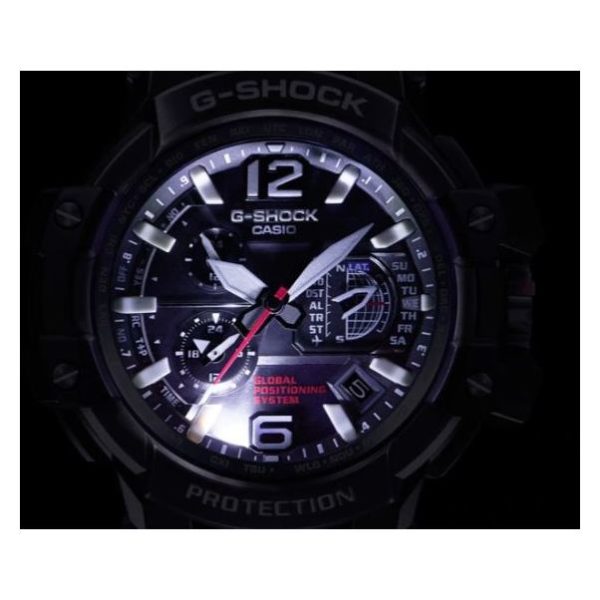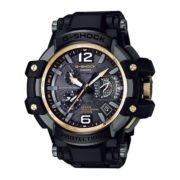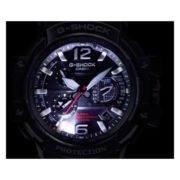 From the GRAVITYMASTER GPW-1000 model, the GPS watch HYBRIDWAVE CEPTOR, which is able to obtain position and time information from GPS satellites and any of the six different time stamp signals from around the world , come new models with improved resistance and wristbands that incorporate light resin components. The HYBRID WAVE CEPTOR GPS system helps ensure that your watch's settings are correct and updated wherever you are. A new design offers a great degree of resistance while a wrist strap that incorporates lightweight resin components ensures lighter weight, longer durability and perfect fit. Basic black is highlighted by hour markers, white pointers and blank city names, and goes beyond with subtle gold accents. Advanced functionality, enhanced resistance, and incredible design make the New GRAVITY MASTER the perfect choice for those looking for the best.
Global Positioning System (GPS) + Radio Control (Multiband)
This hybrid system ensures accurate and continuous hours virtually anywhere you travel. Even switching between daylight saving time and standard time is done automatically as needed based on the information obtained.
MULTIBAND receives the time calibration signals from one of six transmitters worldwide: Germany, United Kingdom, United States, China and Japan (two transmitters).
Designed to withstand the shock of three forces: gravitational fall, centrifugal gravitational force and vibration. Unmatched resistance provided by G-SHOCK only.
An electronic crown and system button and the use of several motors combine to allow simultaneous operation without conflicts of various functions, as well as quiet alternation between them.
TOUGH MOVEMENT is an original CASIO analog mechanism that has a number of amazing features and functions. The durability and integrity of the mechanism is ensured by the hybrid structure that protects against damage and by automatically correcting the initial position of the pointer while maintaining the accuracy of the settings.
Tough Solar ensures stable operation even when using energy-intensive functions.
General
Type
Wrist Watch
Watches For
Men
Features
Display Type
Analog
Features
Body / Ring Material: Resin / Stainless Steel | Resin Bracelet | 1 pressing, 3-fold clasp | Sapphire crystal with anti-glare coating
Watch Shape
Round
Date Display
Yes
Day Display
Yes
Additional Features
Triple G Resist
Neobrite
Water resistant up to 200 m
Solar Powered
LED Light (Super Illuminator) 
Phosphorescence
Reception of the GPS signal: automatic reception (time information, once / day); Manual receive (position information, time information)
Time calibration signal 
reception: Automatic reception of up to six * hours per day (automatic remaining reception canceled as soon as one of them is successful) 
Calibration of the Chinese signal for up to * 5 hours per day 
The latest signal reception results
Time Calibration Signals 
Station Name: DCF77 (Mainflingen, Germany) 
Frequency: 77.5 kHz 
Station Name: MSF (Anthorn, England) 
Frequency: 60.0 kHz 
Station Name: WWVB (Fort Collins, United States) 
Frequency : 60.0 kHz 
Station Name: JJY (Fukushima, Fukuoka / Saga, Japan) 
Frequency: 40.0 kHz (Fukushima) / 60.0 kHz (Fukuoka / Saga) 
Station Name: BPC (Shangqiu City, Henan, China) 
Frequency: 68.5 kHz
Automatic pointer position correction
Airplane mode
World 
time 40 time zones (27 cities + coordinate universal time), city code display, 
daylight saving on / off
Stopwatches of 1/20 seconds 
Measuring capacity: 23'59.95 '' 
Measuring mode: elapsed time
Timer 
Measuring unit: 1 second 
Counting range: 24 hours 
Initial setting of count range: 1 minute to 24 hours (increments of 1 minute and 1 hour)
Daily alarm
Low battery warning
Power saver (hands that stop to save energy when the watch stays in the dark)
Complete automatic calendar (up to year 2099)
Date display
Regular 
timekeeping Analog: 3 hands (hour, minute (hands move every 10 seconds), second) 
3 dials (24 hours, world time and minute, day), date
Accuracy: ± 15 seconds per month (no signal calibration)
Duration approx. of battery operation: 
7 months with rechargeable battery (regular operating period without light exposure after recharge) 
18 months with rechargeable battery (operating period when stored in total darkness with power saving feature turned on after full recharge)
Water Resistant Depth (m)
200 m
Physical
Case Size Diameter (mm)
56 mm
Weight
151 g
Case Thickness (mm)
18.8 mm
Power & Battery
Power Source
Solar