Casio Protrek WSD-F20A Smart Watch Unisex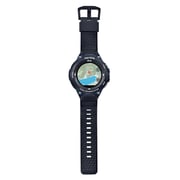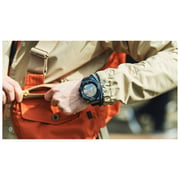 Casio
Casio Protrek WSD-F20A Smart Watch Unisex
Key Information
They are bluetooth capable watches used to answer phone calls , receive alerts, read email and text messages, get a weather report, listen to music, dictate email or text messages or ask a digital assistant a question

Type:

Smart Watch

Display Type:

TFT LCD and Monochrome LCD

The total number of pixels on the screen, more pixels results in a sharper display

Resolution:

320 × 300 pixels

Bluetooth Version:

4.1

Capable of upgrading to future app versions and can be connected to related products

Compatible Products:

Android/iOS Device

Battery life:

1 Day

Color:

Indigo Blue
Details
This new WSD-F20A color variation adopts indigo blue, a color that goes great with jeans and other fashions. It's the perfect business and leisure time choice for today's active man. Lightweight, highly durable resin parts and a simple button layout let you enjoy smartwatch performance at a more affordable price.
Maintain smooth communications anywhere you go.
Your watch alerts you to incoming calls and text or email messages the moment your smartphone receives them. This means you never miss an important call or message, even when your phone is in your backpack, for instance. Since you also receive notifications of new SNS messages and weather and news updates, the information you need is always close at hand, wherever your day may take you.
Access the info you need to travel smart.

Google Maps™ and Google Translate™ are essential tools for today's international travelers. Communication with local residents is also easier when you have your current location at hand. Get updates for your hotel and flight reservations,like check-in and boarding times.
* Google Maps™: Connection to iOS device not supported.
Boost your motivation during workouts.

If you like to pump yourself up with music during your runs, you'll appreciate the ability to control your smartphone's music player from the watch on your wrist. The WSD-F20 also supports the Google Fit app, to record your activity like running distances, times and speeds in conjunction with the built-in GPS and speed sensor functions. Feel your spirits rise to new heights.
Get useful input for travel and other plans.

Just say, "Ok Google," into your watch to start a voice search. Check the local weather, confirm train schedules and connections, discover sightseeing spots in the vicinity, and collect other useful information from a single handy resource. Travel or weekend planning is easier when you use a memo app to record your destinations and remind you of the preparations you need to make before setting out.



You might want to check these..
000000000001114265