Dyson Humidifier PH01 WH/SV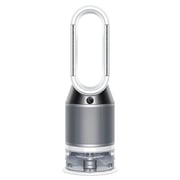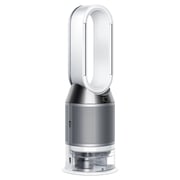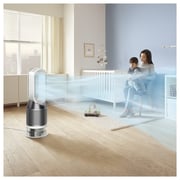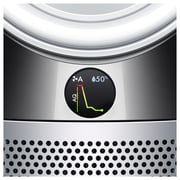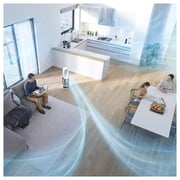 Inclusive of VAT
From AED 155.00/month with Flexipay
Easy Payment Plans
Starting from

AED 275.75

/month

The final amount depends on your bank
Details
+ AED 17.50 Shipping
Delivery 10 Dec - 11 Dec
Secure Transaction
Key Information
Type:

Humidifier

Power Supply:

220-240 Volts
Details
The Dyson humidifier.Scientifically proven to hydrate the air, for a comfortable environment.
Scientifically proven to hydrate the air, for a comfortable environment.
Dry air can be uncomfortable.
When air lacks humidity, it can leave your skin cracked, and sinuses dried out. It can also reduce your respiratory system's natural defenses.
Hygienic humidification for a comfortable home.
Intelligent humidification. Using Ultraviolet Cleanse technology, it kills 99.9% of bacteria in the water tank. Discover Dyson air humidifiers.
Automatically monitors, and humidifies.
With intelligent climate control, the Dyson humidifier precisely monitors temperature and humidity. And in auto mode, the level of humidity is adjusted automatically – to maintain a comfortable, hygienic environment, at the touch of a button.
Even, whole-room humidification.
Some humidifiers have a weak projection, so they can only hydrate small areas. But with patented Air Multiplier™ humidifier technology, the Dyson humidifier projects hydrated mist throughout the whole room.
Comfortable while you sleep.
With the Dyson humidifier, we've engineered a machine that hydrates air evenly and hygienically – all night long.
Dual function for year-round use.
The Dyson humidifier projects a cool mist, for hygienic, even air humidification all year round. With high-velocity air to cool you in summer.
The Dyson humidifier uses Ultraviolet Cleanse technology, exposing every drop of water to ultraviolet light.
Ultraviolet Cleanse technology.
Water from the tank is channeled along with a specially-designed cold cathode UV-C bulb. It uses an intense shortwave light to penetrate cells and disrupt the DNA of organisms such as bacteria, viruses and mold. A three-minute cycle kills 99.9% of bacteria in the water.
Piezoelectric transducer.
The water runs into a chamber, where a piezoelectric transducer converts a high-frequency electronic signal into a high-frequency mechanical oscillation. The transducer oscillates at 1.7 million times a second, with this ultrasonic frequency atomizing the water into a fine mist.
Air Multiplier humidifier technology.
With technologies found in turbochargers and jet engines, Air Multiplier humidifier technology amplifies airflow 17 times, using applied fluid dynamics. The airflow generated by the motor induces air behind the machine while surrounding air follows the airflow in a process known as entrainment. This creates a long-range stream of airflow, accelerated through the rear aperture.
High-velocity hygienic mist.
A small amount of airflow is syphoned off, channeling the hygienic mist into the annular loop, and out through the front aperture. Meanwhile, 7.9 gallons of air per second accelerates out of the rear aperture – entraining up to 121 Gals/sec. The jets meet, projecting the mist evenly throughout the room.
Intelligent climate control.
A built-in sensor uses a thermostat to monitor temperature, and humidistat to detect the level of moisture in the air. It reports back to an intelligent microprocessor, which uses the humidex scale to automatically adjust the level of humidity.
Some other air humidifiers have dirty secrets. Ours have Ultraviolet Cleanse technology.
"Existing humidifiers can be unhygienic. They allow bacteria in the tank to be transmitted directly into the room. By questioning, testing and often trying the seemingly illogical, we could create technology that solves this problem – and engineer a better product."
Breathing new life into humidifiers. By killing bacteria.
To make our humidifier hygienic, we tested every possible way of killing bacteria in water – from silver ions to antimicrobial plastic. Ultraviolet light was by far the most effective method. This led us to develop our own technology, channeling every drop of water in the tank along with a specially-designed cold cathode UV-C bulb.
To continue our journey, we'd need top-flight materials.
The problem with ultraviolet light is that it can crack or disintegrate product components. So we built a test rig to accelerate degradation in different materials. Eventually, we chose Polyetherimide – a military-grade plastic, often used for jet engine components.
Five years of testing the water. And the airflow.
Over the course of five years, we created a further 70 test methods – from bacteria removal to airflow projection. We even tested the machines in the varying levels of humidity that they'll be subjected to around the world, from dry summers in Australia to humid downtown Manhattan.
Greater lengths. But not always distances.
Coincidentally, the tap water at our UK base in Malmesbury is some of the hardest that can be found in the world. These adverse calcium conditions meant that our machines had to perform under the most difficult conditions possible.
The result: Hygienic humidification. The Dyson humidifier is scientifically proven to hydrate air.