Gorenje Built In Dishwasher GV66260
Gorenje Built In Dishwasher GV66260
Key Information
Capacity:

16 Place Settings

Full size dishwasher

Control Type:

Touch Control

Noise Level:

45 db

30 - 45 dB (Quiet model), 46 - 55 dB (Normal model), 56 and above (Noisy model)

Water Consumption:

9.5 Litres

15 Litres and less is considered to be efficient diswasher

Weight:

38 kg

Dimensions (H x W x D):

810.70 x 590.60 x 550.60

Energy Rating:

A+++

Higher the Star Rating, better the Refrigerator will work according to energy efficiency

Color:

White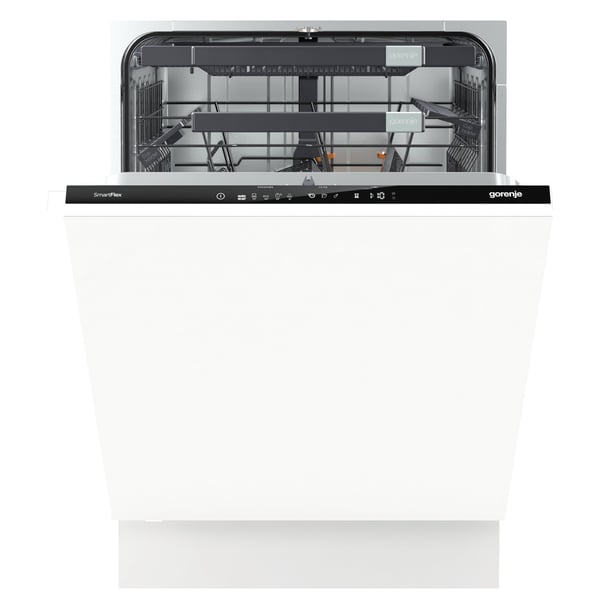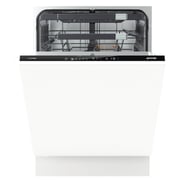 Fully integrated dishwasher Energy class: A+++ 16 place settings Number of baskets: 3 Total Aqua Stop TotalDry – automatic door opening Dimensions (W×H×D): 59.6 × 81.7 × 55.6 cm
16 place settings as flexible as your time will be
The Smart Flex dishwashers offer enough space for all your needs. Three baskets enable washing up to 16 place settings at a time. The fully flexible interior allows for different loading options, the use is simple and the washing effects are perfect
15min Speed Wash Clean fast that you can slow down
Imagine throwing a dinner party and the dishes from the main course are cleaned in the time it takes to serve dessert. A quick 20 min programme with the Speed Wash function will do your dishes in only 15 minutes. Perfect for handling the volume of dishes created by having multiple guests in the house.
Total Dry Always perfectly dry dishes
After the washing cycle, the dishwasher door automatically opens just slightly to let out the excess steam. This allows fresh air to reach the crockery so the washed items, like plastic dishes, dry completely. Excellent for quick drying with low energy consumption.
Smart Flex Fully qualified to do your job
The new Gorenje dishwashers are inspired by modern lifestyle. Flexible enough to tackle any task, they were created with dynamics of everyday life in mind. They adapt completely to your every need and offer a variety of functions as well as fully adjustable and customizable interior. The abundance of features will give you time to enjoy the more important things in life.
Navigating your dishwasher has never been easier. All the controls are located at an ergonomic position with a straightforward left-to-right logic of operation. While all models excel with the white LED display, some of the more advanced models are also enriched with touch control. Just one touch is enough to start the dishwashing process.
The baskets are equipped with highlighted movable elements and a customizable basket layout for easy loading. The truly simple three level basket adjustment system allows you to fit even the biggest pots and plates. The plate rack in the lower basket can be easily folded to allow more space for larger items. Cutlery can be perfectly organized on a special tray. The cutlery pieces are positioned separately so that they do not scratch and can dry out perfectly. Every detail is carefully designed so that the handling is as easy as possible.
Sometimes all you need is to give the glassware a light rinse, on other occasions your dishwasher is full of heavy dishes left over from Sunday lunch. The advanced sensor technology will always adjust your dishwashing programme to clean dishes perfectly with optimized water and energy consumption. You do not need special programmes for glass or intensive cleaning – the single Auto Programme will adapt to all your needs.
Main
Brand
Gorenje
Color
White
General
Built In / Free Standing
Built In
Type
Built In Dishwasher
Capacity
16 Place Settings
Features
Features
16 place settings | Memory programme | QuickIntensive programme | Automatic programme | SpeedWash function | TotalDry – automatic door opening | ExtraHygiene | Function 3 in 1
Additional Features
Selected programme indicator | Visual indicator for wash finish on control panel | Voice signal for the end of washing cycle | Time remaining indicator: Time remaining indicator | Door panel installation options: Possible as extra | Up to 24 hours | Number of baskets: 3 | Upper basket system: MultiClack | Foldable bottom plate baskets | Number of water jet levels: 5 | Number of spray arms: 3 | Selfcleaning filter | Sliding door | Total AquaStop
Wash System
Control Type
Touch Control
Half Load Wash Option
Yes
Water Consumption
9.5 Litres
Physical
Display
Digital
Dimensions (H x W x D)
810.70 x 590.60 x 550.60
Power
Power Supply
220-240 Volts
Hertz
50 Hz
Energy Rating
A+++
Power Consumption
1900 Watts
Noise Level
45 db
Other
Country of Origin
Slovenia
Weight
Weight
38 KILOGRAM