Gorenje Built In Electric Oven BO758A30X
FREE Shipping
As low as AED 118.00 per month.
Key Information
Oven Capacity:

71 Litres

For 4 to 6 members in a family, ideal capacity required is 32 Litres and above

Built In / Free Standing:

Built In

Dimensions (H x W x D):

600 mm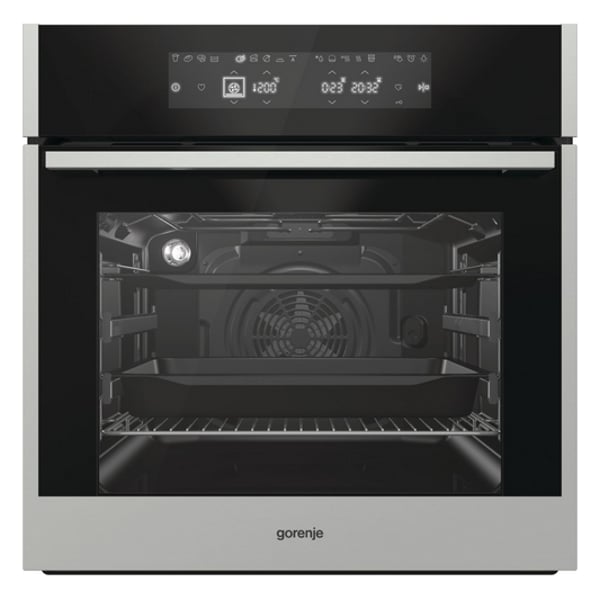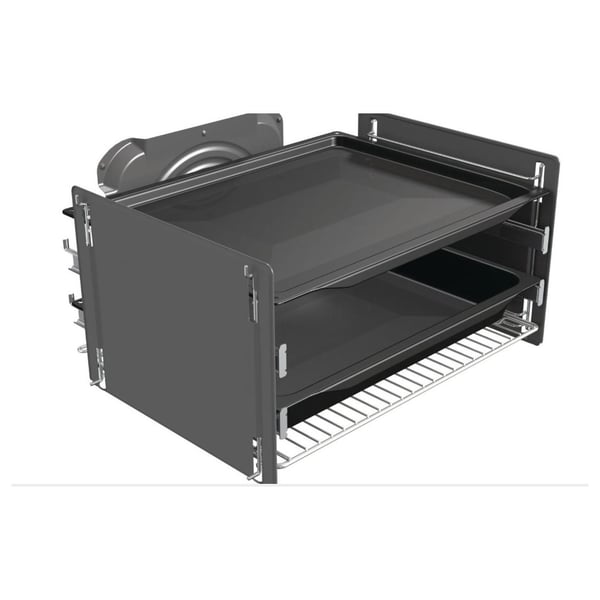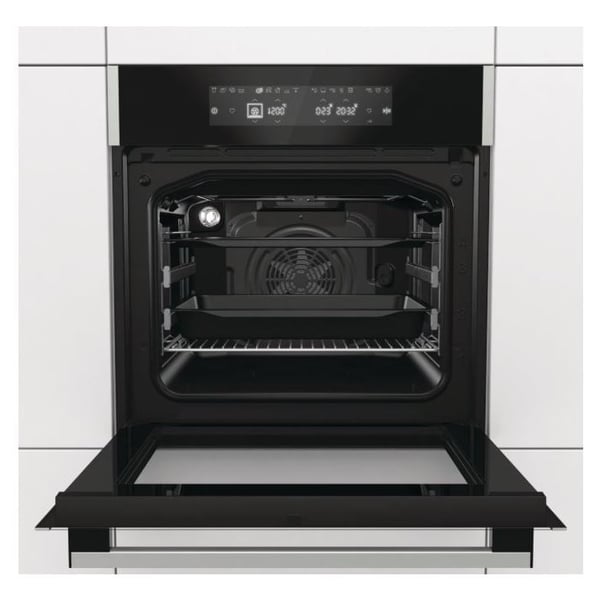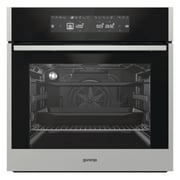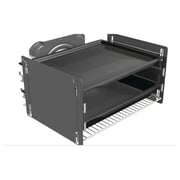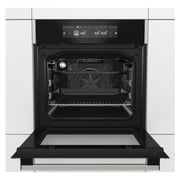 Gorenje Built In Electric Oven BO758A30X
Homemade Plus Shape


An Ideal Oven For Professional Results
The Oven, Now Even More Spacious, Features An Oval Shape That Successfully Mimics The Traditional Wood-Fired Ovens. This Allows Optimum Circulation Of Air That Completely Embraces The Food To Make It Tender And Juicy On The Inside And Amazingly Crunchy On The Outside. The Air Is Even Better Distributed Throughout The 71-Litre Cavity With Recessed Sides, Which Decreases The Occurrence Of Cool Spots That Preclude Even Browning. Special Air Circulation Dynamics Affords Excellent Conditions For Professional Cooking On A Single Rack Or On Several Racks Simultaneously.
Direct touch


Perfection Is A Touch Away
Intuitive Symbols Make The Oven Easy To Use And Allow Freedom To Set Any Cooking Parameter According To One'S Personal Preferences. Just The Right Touch And Your Delicious Meal Will Be Ready!
Multilevel Baking
Many Dishes In One Go
Combination Of Multiflow 360˚And Homemade Shape In Some Models Of Gorenje Ovens Helps Reach The Toughest Objective: Preparing Up To Five Trays Of Dishes At Once. The Good News Is: The Flavour And Smells Don'T Mix. Smart Air Distribution Ensures That The Food Is Evenly Baked On Every Level. Since The Oven Volume Is Larger, The Overview Is Excellent As Well.
Silver matte


Ultra Resistant, Ultra Smooth Coating
Enamel Quality And Type Are Exceptionally Important For The Oven And Its Operation. Silver matte Is A Highly Resistant And Strong Material That Can Stand Extreme Heats, Even Pyrolytic Cleaning At 500 °C. Free From Micro Pores, It Coats Oven Surfaces And Baking Trays, Making Them Resistant To The Highest Temperatures, Microwaves And Steam. The Triple Coating Of The Interior Supports Heat Reflection And Provides Additional Insulation. Therefore, The Oven Interior Always Stays Sterile And Safe.
Cataclean


A Surface That Allows No Grease
Catalytic Cleaning Represents A Great Assistance In Oven Maintenance. When The Oven Reaches 85˚C Or More During The Baking Process, Catalytic Panels Automatically Start Absorbing The Grease And Impurities.
Aquaclean


Simple, Casual Cleaning
Due To Completely New Enamel In All Lines Of New Gorenje Ovens, Aquaclean Function Has Been Significantly Improved. Aquaclean Offers Great Assistance In Cleaning The Oven Cavity. All It Takes Is To Pour Half A Litre Of Water
More Space For Greater Cooking Freedom
The New Generation Of Gorenje Ovens Conceals A Shape Within The Upper Part. Now The Optimised Airflow Circulates Inside At An Even Greater Volume, Circling Completely Freely. The Increased Capacity Allows Preparation Of Larger Baking Trays And Larger Quantities Of Food, While Their Outside Dimensions Remain The Same. Instead Of The Previous 3, The Superior Oven Now Enables Using 5 Levels At The Same Time. Capacities Range Up To 75l In Standard Ovens And Up To 53l In Microwave Ovens, Which Is Amongst The Largest Available On The Market.
Gentleclose


A Soft Touch Is Enough
Only A Soft Touch Is Needed To Close The Oven Door Smoothly, Without Any Noise.
Dc+ System


Effective Heat Management
The Dynamicooling System Efficiently Cools The Oven Exterior (Or Housing) To Prevent Any Damage Caused By High Temperature. In Ovens With The Dynamicooling+ System, The Heat Sensors Regulate The Cooling Of The Oven Exterior Walls Until They Reach A Temperature Of 60 °C. This Is Particularly Convenient In Ovens With The Pyrolytic Cleaning Function Which Works With Extremely High Temperatures.
Supersize


Ready For Xxl Recipes
More Spacious Ovens Allow You To Cook A Larger Quantity Of Food – Not Only Because Of Even Air Circulation At All Levels, But Also Because Of The 46cm Wide Baking Trays In Both Standard And Compact Ovens. Innovative Solutions Allow A Larger Interior And The Oven Width Is Fully Used. There Is More Space On Each Baking Tray And The Superior Technology Makes Sure The Food Is Cooked Evenly On All Levels.
Perfect grill


A Double Heater For Evenly Crispy Food
The Best Baking Results Are Achieved With A Combination Of Larger And Smaller Heaters, Where The Latter Is Positioned Inside The Larger One. The Smart Positioning Of The Heaters Allows Optimal Heat Distribution And Provides The Ultimate Baking Results Every Time, So Food Is Crispy On The Outside And Soft On The Inside. A Variable Heater Combination Can Use Either The Inner Or Outer Heater, Or Both At Once. In Advanced Models, The Heater Is Movable For Easier Cleaning And Maintenance.
Touchfree Coating


Shiny And Fingerprint-Free Finish
All Stainless Steel Surfaces Are Coated With A Special Touchfree Film That Prevents Fingerprints Markings, Leaving The Surface Always Shiny And Making Cleaning Much Easier.
Fast preheat


Charmingly Fast, Saving Time And Energy
The Oven Reaches A Temperature Of Up To 200˚C In Just 6 Minutes, Saving 30 % Of The Time Needed By Standard Preheating. This Comes In Handy For Recipes That Require A Preheated Oven. A Light And Sound Signal Informs When The Temperature Is Right.
General
Type
Built In Electric Oven
Built In / Free Standing
Built In
Oven Capacity
71 Litres
Other
Thermoelectric fuse | Dynamic oven cooling plus - DC+ | Triple glazed oven door with one heat deflector (CoolDoor) | Catalytic cleaning CataClean | AquaClean function | Catalytic oven side | Catalytic fan cover | SilverMatte | TouchFree Inox | Foldable top heater for easy cleaning
Dimensions
Dimensions (H x W x D)
600 mm
Power
Power Voltage
220-240 Volts
Frequency
50-Hz
Power Consumption
3300 Watts
Features
Features
Lower and upper heater | Lower heater | Upper heater | Infra heater | Ventilation | Infra heater with ventilation | Lower heater and fan | Lower heater with circular heater and fan | Small infra grill | Defrost | FastPreheat
Additional Features
AutoRoast | AquaClean | StayWarm | Eco function | GentleClose door hinge | Illumination | Baking on different levels at the same time | 1 Deep tray | 1 Shallow tray | 1 Premium grill rack | Partially extendable telescopic guides on two levels
Weight
Weight
33.7 KILOGRAM
000000000001188310