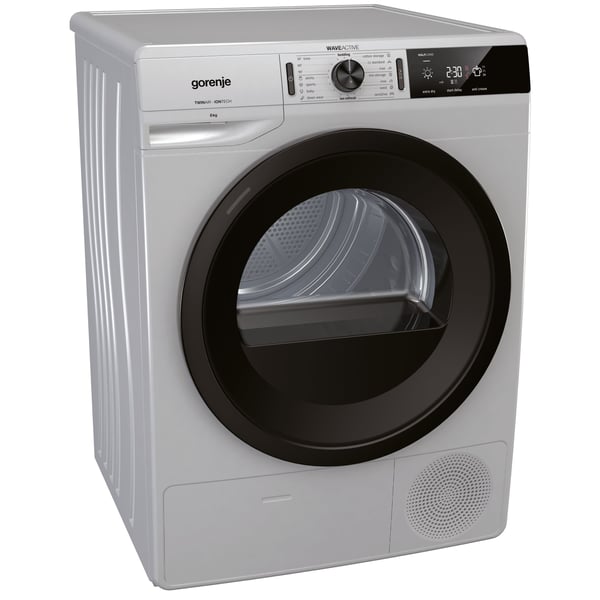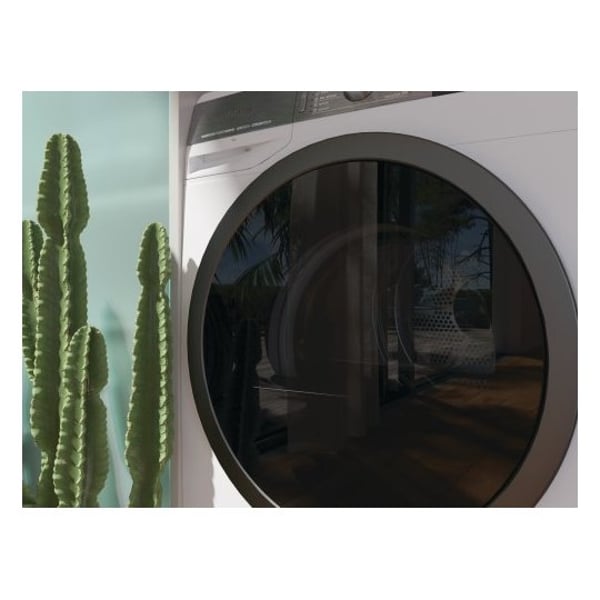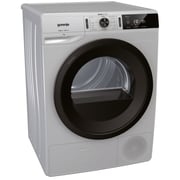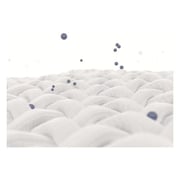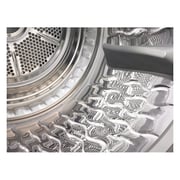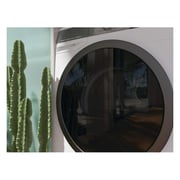 Gorenje
Gorenje Heat Pump Dryer 8 kg DE82ILAG
Key Information
Capacity (Dryer):

8 KILOGRAM

It is level of noise produced by your Laundry (Lower the value, lesser will be the noise), 50dB is normal

Noise Level:

65 dB

It collects moisture from wet clothes and drain it away

Type:

Condenser Dryer

Color:

Silver
Details
Gorenje Heat Pump Dryer 8 kg DE82ILAG
Minimize creasing. Maximize freshness
Air full of negatively charged ions dries the laundry in a way that considerably reduces creasing of your clothes. The ionizer creates an environment free of most allergens, smoke residues, pollen and the electrostatic charge accumulated during the drying process. As a result, the clothes are easier to iron and they smell fresh.
Sensitive treatment of any garment
The unique wave-shaped drum pattern softens the fibres for the most gentle treatment of all kinds of fabrics. You'll have perfectly dry laundry with minimum wrinkles.
Eliminates problems of excess humidity when drying clothes
In each drying cycle WaveActive dryers condense an impressive in your home. That means 55 l of water less per year will be 90 % of humidity from clothes, ensuring complete dryness of released into your living space, compared to tumble dryers with your laundry and eliminating any problems of excess humidity B condensation efficiency class.
Quick refreshment for your clothes
Do you need to quickly remove odours from your clothes? With this special refresh program with ions IonRefresh your clothes will be ready to wear and almost as freshly washed in just 30 minutes.
Three steps and you are ready
The easy to use interface with centrally positioned selection knob allows you to start drying in just 3 easy steps; turn on the dryer, select the programme and press start! Without any submenus for selecting extra functions and settings, but you do have the freedom to the settings on the large touch interface, so you can be sure your garments will be dried just as you like it.
Efficient drying of even the largest piles of laundry
Perfect match for your needs
Our technology makes sure every type of fabric is dried in the best possible way by delivering the optimum combination of temperature, rotation and time. These settings can be further adapted with different drying modes, allowing you to find just the right combination for your current need.
Sportswear ready to wear
Sensitive sports clothes and other high tech fabrics require special treatment. That is why this programme was developed specifically for drying items that normally could not be dried in the dryer.
Economical and gentle
Heat pump dryers boast high energy efficiency that enable great savings, and also dry more gently than conventional drying systems. The temperature in a heat pump dryer reaches around 50 °C, which allows drying almost all garments, while preventing overdrying and shrinking.
Perfectly dried without twisting
Drying big sheets and other large bedding items in the dryer can result in a big twisted knot in your dryer. The bedding programme with carefully thought out algorithms and drum rotation in both directions prevents twisting and ensures excellent drying results.
Special care for baby clothes
Sometimes tiny baby clothes can stay a bit dam even at the end of the drying cycle. This special programme is designed so that every last romper will be perfectly dry and even less wrinkled
Dried at the right time
Program the start of the drying process in advance and let the dryer work whenever is most convenient, for example when electricity is cheaper. The clothes will be dried to the previously set level and ready to be ironed or stored in the closet
Minimised ironing
Don't have the time to immediately empty the dryer? WaveActive dryers will periodically tumble the load every for up to 3 hours after the cycle has finished to prevent your garments from creasing unnecessarily.
Less vibrations. Less noise.
These special side walls minimize the vibrations of the dryer for less noise during the drying process and a more stable machine.
No more missed socks
The carefully placed LED light elegantly illuminates the drum and enables easy loading and unloading.
Stable on top
Vacuum feet allow you to securely place the dryer on top of the washing machine.
Perfect entrance
The large door, made from a single piece of plastic without any screws ensures stability, prevents annoying squeaks or creaks. It opens out to a full 180 degrees, so emptying and loading the drum is as easy as can be.
Never empty the condensate tank again
A condensation dryer with the AutoDrain hose can be connected to your plumbing system, saving you the trouble of manually emptying the condensate tank.
Safety for curious kids
The control panel can be locked by pressing a special combination of keys, preventing children from using the appliance, when you are not around and making it impossible to inadvertently change the settings.
No more annoying beeps
WaveActive dryers are not only kind to your laundry, but also to your ears. Soft tones give you gentle feedback on the functions or programs you have chosen.
Sensor technology for efficient operation
Smart sensor technology automatically controls the drying process according to the selected programme, laundry type and desired level of dryness. The sensors will stop the drying when clothes reach the this level, so you don't overdry them.
Glass door with FiltrationSupreme
Optimal filtration with the best overview
The glass door enables you to keep an eye on the drying process, while the FiltrationSupreme system ensures excellent filtration without restricting the airflow. Its patented slot-in solution allows easy cleaning and the optional interior lighting makes drying even simpler.