Gorenje Front Load Washer 8 kg WE843
Key Information
Type:

Front Load Washer

They are built for efficiency.Water consumption is less. It has washing and upto 70% drying capability

Capacity:

8 kg

Ideal capacity for medium families (5 to 6 people). Fits 3 jeans, 3 shirts, 2 bed sheets, 3 pillow cases, 4 dish cloths, 4 small towels

Power Consumption:

2000 Watts

Color:

White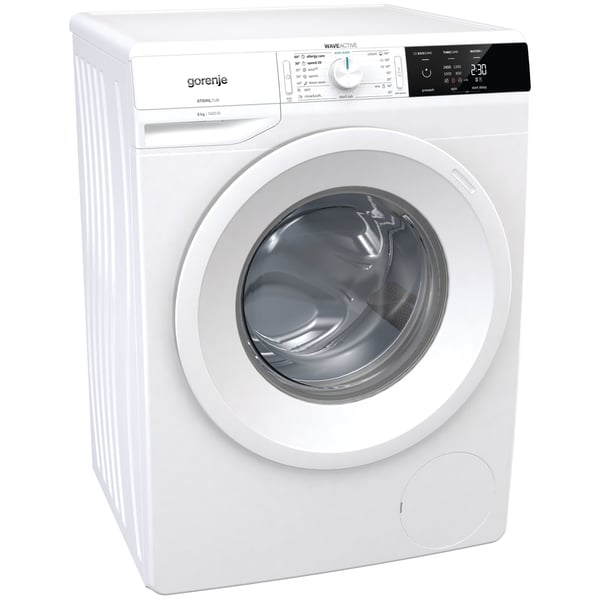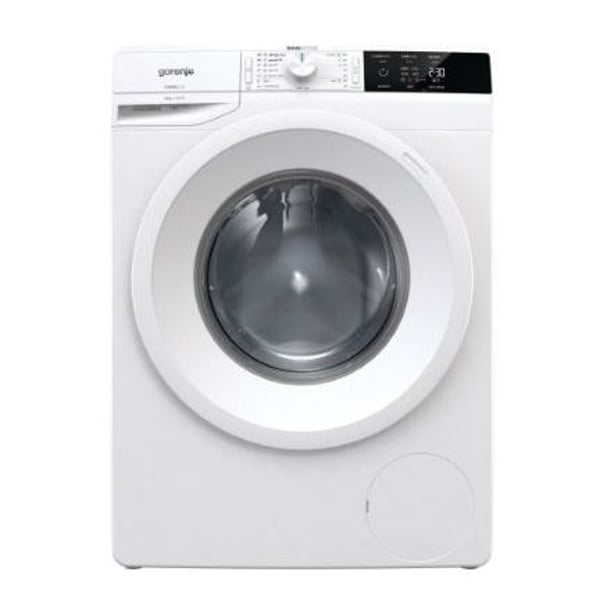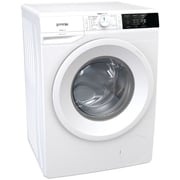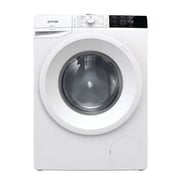 Gorenje Front Load Washer 8 kg WE843
Sensitive treatment of any garment
The unique wave-shaped drum pattern in combination with special wave-shaped 3D ribs softens the fibres to provide the most gentle garment treatment for perfectly clean laundry with minimum wrinkles.
Always the right programme
Can't decide which programme to choose? Just select AutoWash and your washing machine will select the best washing cycle for your load. You can relax, the clothes will be spotlessly clean, regardless of their material.
Three steps and you are ready
The easy to use interface with centrally positioned selection knob allows you to start washing in just 3 easy steps; turn on the washing machine, select the programme and press start! Without any submenus for selecting extra functions and settings, but you do have the freedom to the settings on the large touch interface, so you can be sure your garments will be washed just as you like it.
Extra protection for sensitive skin
The AntiAllergy programme uses a higher temperature and extra rinsing to efficiently eliminate traces of detergent on the fabric. The allergens, that could cause an unpleasant sensation, are removed and delicate skin protected.
No more shaking while in action
Increased stability and significantly reduced vibrations thanks to StableTech side and bottom panels result in a significantly decreased noise level even at highest spin speeds.
Always pleasantly smelling laundry
Washing with washing powder at lower temperatures may lead to ideal conditions for the development of bacteria which in turn could cause a foul smell of your laundry. The SterilTub will eliminate any bacteria in the machine interior and ensure your laundry will always smell fresh.
Perfect entrance
The large door, made from a single piece of plastic without any screws ensures stability, prevents annoying squeaks or creaks. It opens out to a full 180 degrees, so emptying and loading the drum is as easy as can be.
Perfectly matching your laundry needs
Our technology makes sure every type of fabric is washed in the best possible way with the optimum combination of temperature, water amount, washing cycle time, and spinning speed. These settings can be further adapted with different washing modes, allowing you to find just the right combination for your current need.
Safety for curious kids
During the wash, the door stays locked, preventing even the most inquisitive child from opening it. For added protection, the control panel can be locked by pressing a special combination of keys, making it impossible to inadvertently change the settings.
No more annoying beeps
WaveActive washing machines are not just kind to your laundry, but also to your ears. Soft tones give you gentle feedback on the functions or programs you have chosen.
Fits anywhere
A small bathroom or large laundry loads, WaveActive washing machines are designed to suit your exact needs. You can choose from four different depths: the slim models (43 cm and 46,5 cm) have a loading capacity of 6 or 7 kg and the full-size models (54,5 cm and 61 cm) a loading capacity of up to 10 kg.
Your favourite items always ready to wear
Just 20 minutes is enough to refresh your new T-shirt and another less soiled laundry. So your outfit of choice will always be ready.
Clean and fluffy
With this programme, you can easily wash your down jackets, blankets and pillows at home, saving you time and money.
Don't worry about forgotten laundry
With the StopAddGo feature, you can simply pause the washing cycle during its initial stages to add or remove laundry.
Main
Brand
Gorenje
Color
White
General
Additional Programs
Programs: Cotton, Mix/synthetics, Wool/hand program
Built In / Free Standing
Free Standing
Type
Front Load Washer
Loading Type
Front Load
Capacity
8 kg
Display
LED
Spin Speed
1400 rpm
Power Supply
220-240 Volts
Frequency
50-Hz
Power Consumption
2000 Watts
Programs
Special programmes: AllergyCare / Auto / SportWash / Quick 20` / DownWear
Dimensions
Dimensions (H x W x D)
850 x 600 x 600 mm
Features
Features
Presetting time delay of start | Simple interface | Personal settings for all programs | 16 programs
Additional Features
Modes: NormalCare, EcoCare, TimeCare | Washing modes | Audio signal SoftSound | Self cleaning program SterilTub | StableTech side panels | SuperSilent+Sleek door | Lockable control panel
Weight
Weight
71 KILOGRAM
000000000001195998