Gaming

/

Nintendo Switch 32GB Neon Blue/Red International Version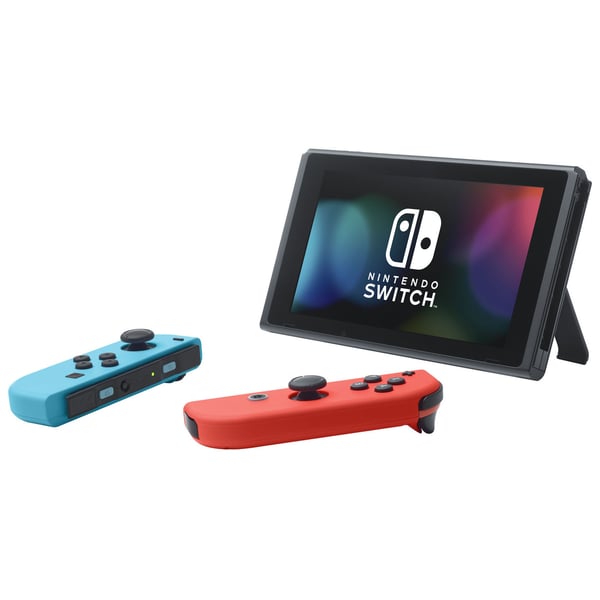 Roll over image to zoom in
Click to expand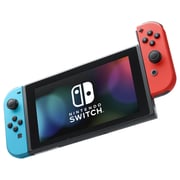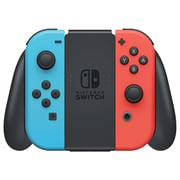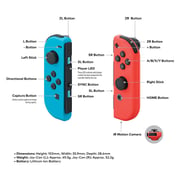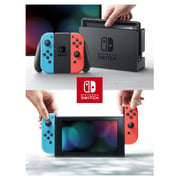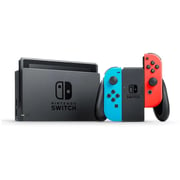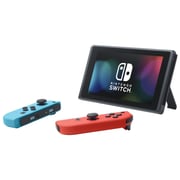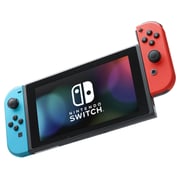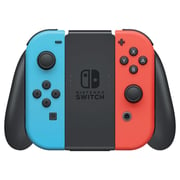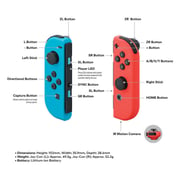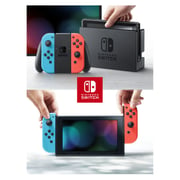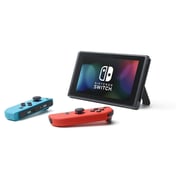 Key Information
Color:

Neon Blue/Red

Actual screen size in inches measured diagonally

Display:

6.2 in

In the Box:

Adaptor,Controller,Grip,HDMI Cable,Straps,Switch Dock

Higher size is useful to store more games, music, movies, and other data

Storage Size:

32 GB

You can connect Controllers, Keyboards, Joystick, Wheel Pad, Guitar and Drum

USB:

USB Type C

You can connect TV and Audio

HDMI:

Yes
Details
Enjoy the home console gaming experience, even without access to a TV Ever given up on a game because you didn't have enough time to play? The Nintendo Switch system can transform to suit your situation, so you can play the games you want, no matter how busy life may be. It's a new era where you don't have to adjust your lifestyle to play games – instead, your console adjusts to fit around your lifestyle. Enjoy games anytime, anywhere, with anyone, with flexible and free play modes.
THREE PLAY MODES
TV mode: Gather around a big screen and enjoy gamingwith a crowd.

Hook up the console to the TV and everyone can enjoyplaying, from kids to adults. It's a great way to get into the game with familyand friends at home.
Tabletop mode: Share the screen, share the fun.
If you don't have access to a TV, prop up the standattached to the console and hand a Joy-Con to a friend to play co-operative orcompetitive games right on the console screen.
Handheld mode: Carry around a large, beautiful displayanywhere you go

Enjoy the same gameplay experience as on a TV screen,right at your fingertips. Play engaging games you've never thought you can playon the go anytime, anywhere.
LOCAL MULTIPLAYER

Link up to eight consoles for multiplayer
Players can sync together up to eight Nintendo Switch consoles to play competitive and co-operative multiplayer games.
ONLINE MULTIPLAYER

If you sign up to the online subscription service for Nintendo Switch*, you can play with friends far away and players around the world. Subscribers can also sync up a dedicated smart device app to set play appointments, meet up in online lobbies to play and voice chat while playing.
SHARE THE FUN WITH
Joy Con
Nintendo Switch has a controller on each side of the console that function together: the Joy-Con.
If you attach the two Joy-Con to the Joy-Con grip, it will work like a traditional controller, and without the grip they work as two individual, fully-functioning controllers.
By handing one of the Joy-Con to a friend, you can play competitive or co-operative multiplayer anywhere.
As well as holding a single Joy-Con vertically or horizontally to play games, you can also play using both Joy-Con at once, holding one in each hand.
Attach the Joy-Con straps included in the package and slip the straps onto your wrists to enjoy the Joy-Con's motion controls.
If you hold the Joy-Con sideways, you can also access the SL/SR Buttons with ease.


JOY CON: EVOLVING THE WORLD OF PLAY

A sense of touch that goes beyond mere vibrations
Imagine the Joy-Con is a glass containing ice cubes. With HD rumble, when you move and tilt the Joy-Con you can feel the ice cubes clanking around.
There's one, there's another…HD rumble feels so realistic that you can even tell how many cubes there are, almost as if you're actually holding a glass in your hand.
The HD rumble function included in the Joy-Con creates an immersive gameplay experience that isn't possible with images and sounds alone.
Sense shape, movement and distance
The IR Motion Camera in Joy-Con (R) can detect the shape, movement and distance of objects captured by the camera.
For example, it can recognise the shape of players' hands, such as when you make a rock, paper or scissors. With this feature, there are more gameplay possibilities than ever!