Siemens Condenser with heat pump technology Dryer 9 kg WT4HW560GC
Siemens Condenser with heat pump technology Dryer 9 kg WT4HW560GC
Key Information
Type:

Condenser Dryer

It collects moisture from wet clothes and drain it away

Capacity:

9 kg

Color:

White

Delivery Lead Time: 24-hour delivery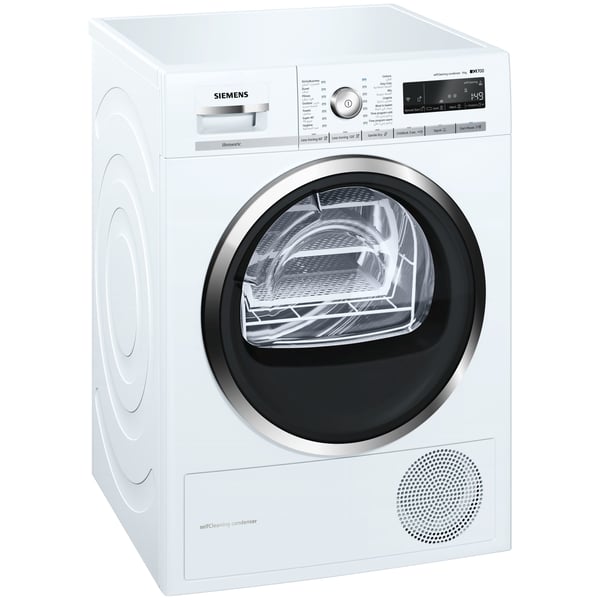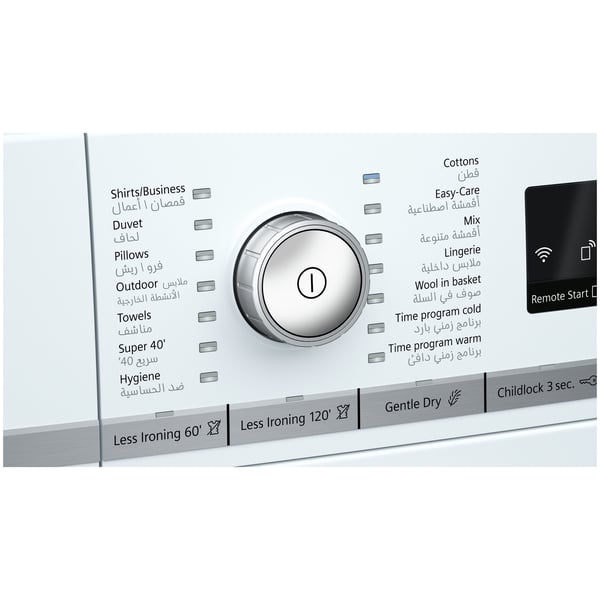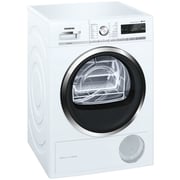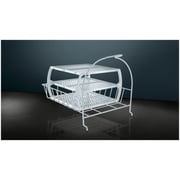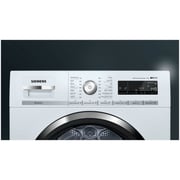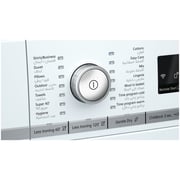 Siemens Condenser with heat pump technology Drye WT4HW560GC
Never clean your condenser again: selfCleaning condenser.
The condenser is automatically cleaned vigorously during every drying cycle. Several times. The result: a lint-free condenser that keeps energy consumption consistently low – extremely low.
Drying that is especially soft and gentle: softDry drum system.
This unique drum system ensures a constant airflow and stable temperature. The wave-like paddles stir the warm air, distributing the laundry more gently and efficiently than previously possible. The new, gentle-wash drum structure allows the laundry to glide over the drum as if floating on a cushion of air.
Let your laundry adjust to your timetable. With the Home Connect App you can easily select program options and start the drying process whenever you want, from wherever you are – to have the laundry ready exactly when you need it.
A dryer you can monitor from wherever you are provides a lot of convenience: With the Home Connect App you always know exactly if the laundry is ready or not, and you don't have to check it several times just to see that it's still running. And if it is ready, your appliance even sends you a push notification.
A large amount of programs and options doesn't have to mean that laundry care is complicated. With the Easy Start function, you can find exactly the right program to treat your laundry via Home Connect App – in just a few seconds.
You don't need to be a expert to install your appliance. The Home Connect App guides you through each step, making sure you always get the most out of your appliance.
The first 40-minute drying programme from Siemens: Rapid 40.
Laundry washed with the Rapid 15 wash programme will be perfectly dry in only 40 minutes thanks to optimised temperature control and a customised cool-down phase.
Drying from cashmere to trainers: the wool/shoe basket.
The wool/shoe basket is securely hooked into the machine in a horizontal position and does not rotate with the drum. Gentle and uniform distribution of the warm air means that a thick woollen pullover is dry in two hours at most.
Intuitive operation and convenient additional function: the large display with end-time delay
The large display provides maximum convenience and flexibility during washing, showing all relevant programme information at a glance such as programme sequence, temperature and speed and providing helpful additional functions such as 24-hour end-time delay and much more.
Dries gently and precisely: autoDry.
To prevent overheating of the laundry or uneven drying, sensors precisely measure and control the temperature and moisture. Your laundry is thus dried especially gently and precisely – with reduced energy consumption and ironing time. Perfect.
Main
Brand
Siemens
Color
White
General
Built In / Free Standing
Free Standing
Type
Condenser Dryer
Loading Type
Front Load
Capacity
9 kg
Display
LED
Power Supply
220-240 Volts
Frequency
50-Hz
Energy Consumption
A++
Dimensions
Dimensions (H x W x D)
842 x 598 x 599 mm
Features
Features
Cleaning the condenser becomes obsolete and energy consumption remains constantly low thanks to the self-cleaning system. | Sensor-controlled autoDry technology prevents laundry from shrinking when being dried. | Considerably shorter drying times than before.
Others
Country of Origin
Poland
Best Price Guarantee (Check prices across power retailers. The prices shown here are provided by Price Check – a 3rd party application. Sharaf DG is not liable for the prices disclosed by the application.)
000000000001110756