Siemens Standard Dishwasher SN278I46TM
Key Information
Capacity:

14 Place Settings

Full size dishwasher

Noise Level:

42 db

30 - 45 dB (Quiet model), 46 - 55 dB (Normal model), 56 and above (Noisy model)

Water Consumption:

9 Litres

15 Litres and less is considered to be efficient diswasher

Dimensions (H x W x D):

850 x 600 x 600 mm

Energy Rating:

A+++

Higher the Star Rating, better the Refrigerator will work according to energy efficiency

Color:

Stainless Steel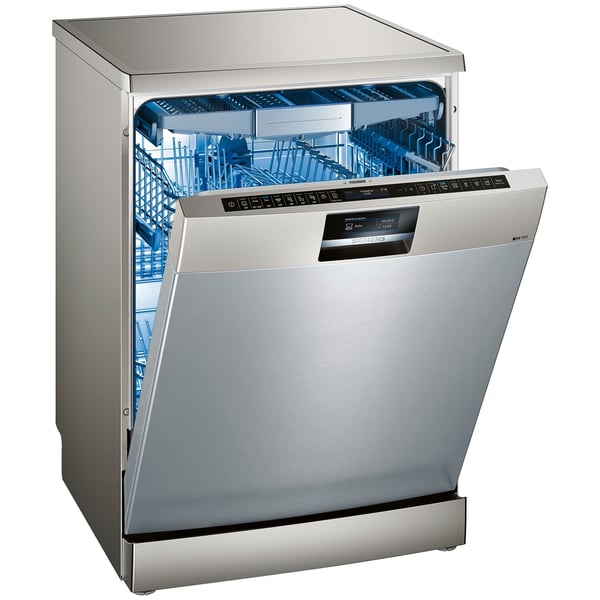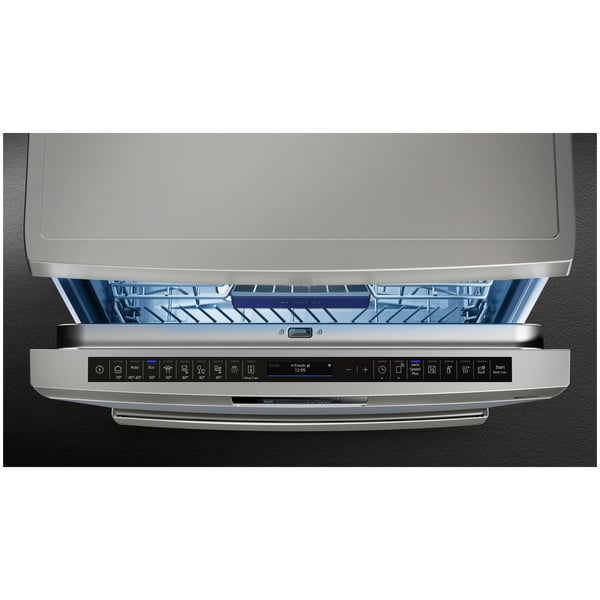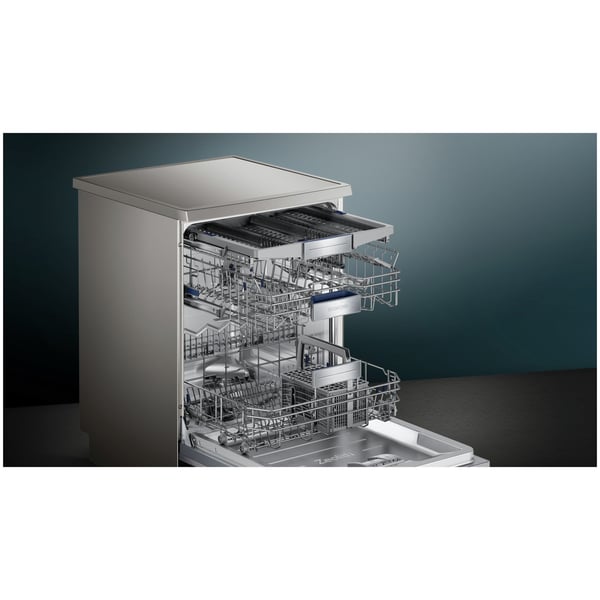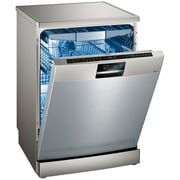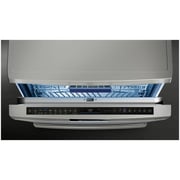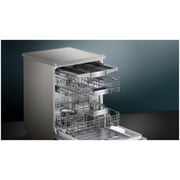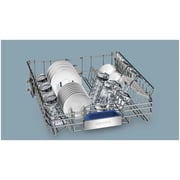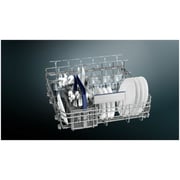 speedMatic dishwasher – equipped with innovative varioSpeed Plus and energy efficiency class A+++ -10% thanks to Zeolite technology.
Economical drying with a brilliant shine: Zeolith® drying.
The mineral zeolite has the ability to absorb moisture and convert it into energy. The versatile material thus ensures faster and energy-efficient drying of your dishes.
Light show for your dishes: emotionLight.
Two LEDs at the top of the door frame bathe the interior of the dishwasher and the dishes in cool blue or white light. The light switches on automatically when the door is opened and off again when it is closed.
Flexible comfort when loading: adjustment marking with Touchpoints.
The Siemens dishwashers' premium design is not just clear on the outside. Blue-coloured adjustment markings inside the dishwasher allow you to see all the possible basket settings immediately. Large pots can be stacked in an instant, enabling you to finish the job sooner. Wine and champagne glasses are significantly more stable.
The world of technological innovation constantly progresses. Step by step, more appliances become more connected and intelligent. With Wi-Fi-enabled Siemens home appliances and Home Connect, this development finally makes its way into your home. The synergy of Wi-Fi-enabled appliances, intelligent software and an intuitive app offers a wide range of options. While some ease the workload and some open up completely new possibilities, all of them make everyday life as efficient and comfortable as never before. And you can spend more time on the things you like. For a life less ordinary.
Easy Start makes operating the dishwasher easier than ever. All you have to do is answer a few simple questions about cleaning preferences and dish type on the Home Connect App, then the ideal programme will be recommended and you can start it remotely from your phone.
Efficient, durable and quiet: the iQdrive motor.
Lower energy consumption with identical performance, short programme times with optimum results and always nice and quiet whatever the programme – all that is not a problem for the iQdrive motor. And on top of all these advantages, it runs virtually free from wear.
Loading lots of dishes is easy:
The basket is equipped with special devices at the top. If they are pressed, the height of the top basket can be easily adjusted in three stages. That makes loading and unloading simpler, particularly when dealing with large pots or plates.
Specialized in gentle cleaning: The Glass 40 °C cycle.
Fine glassware requires special care in cleaning. Siemens' new Glass 40 °C cycle is specifically designed to meet this need. It first cleans glasses carefully but thoroughly at low temperatures. This is followed by a drying phase which has been specially extended for extra-gentle drying. The results are impressive: gleaming glassware you'll be able to enjoy for a much longer time.
For particularly dry dishes: extraDry.
If you wish to wash a lot of plastic dishes, select the new Siemens extraDry programme. It uses higher temperatures for the drying process and extends the drying phase. Every plastic item will be dried optimally.
Lifetime warranty against water damage: aquaStop®.
The aquaStop® safety system prevents water damage of any kind, whether in the supply hose or from a leak in the machine. Siemens warranties this safety for the life of the dishwasher.
The Tab Counter provides more convenience and peace of mind: Just make a note in your Home Connect App whenever you buy new dishwasher tabs, and you can always monitor the amount of tabs you still have via Smartphone from wherever you are. If your supply is running low, the Home Connect App even sends you a push notification, reminding you to get new dishwasher tabs.
You can monitor your Siemens dishwasher with Home Connect from wherever you are, whenever you need it. This way you don't have to check it several times just to see if it's running or not. And if the dishes are clean and dry, the Home Connect App sends you a push notification.
The Home Connect App enables you to easily select programmes and options and start your dishwasher from wherever you are, whenever you want. Thanks to this, you can have the dishes ready exactly when you need it.
10-year warranty against rusting through* of the inner tub of a Siemens dishwasher.
In addition to innovative technology, you can expect one thing in particular from a Siemens dishwasher: durable quality. The inner tubs of all Siemens dishwashers feature the use of high-quality stainless steel sheets, production and connection technologies adapted to the specific materials, and a special surface treatment. That's why we're one of the few manufacturers who also provide a full 10-year warranty against rusting through of the inner tub.
The extra-class baskets: the varioFlexPro basket.
The upper basket is equipped with three foldable, dividable levels and two folding tines, and the bottom rack with four folding tines. This gives you flexibility during loading. In the bottom basket, the glass holder makes it possible to load two rows of glasses. And the top rack offers three-stage height adjustment thanks to rackMatic.
Optimum dishwashing results at the touch of a button: autoProgramme.
After the autoProgramme button has been pressed, aquaSensor checks how dirty the water is and controls when and how much clean water is added as well as the dishwashing temperature.
Clean less: antiFingerprint.
The antiFingerprint feature puts an end to
Releases the full strength of the detergent: dosageAssist.
The cleaning tablet falls directly into a small catch pan thanks to dosageAssist. A precisely aimed jet of water quickly dissolves it. The detergent is distributed evenly throughout the machine, always guaranteeing optimum cleaning results for you.
Even more flexible to accommodate bulky items: the new varioFlex Plus basket with flexible foldable racks.
The optimized varioFlex Plus baskets provide the highest level of flexible loading convenience thanks to three foldable, divisible levels and 6 foldable racks in the upper basket, plus glass stem holders in the lower basket. Now even more flexibility in the lower basket because every other front rack is foldable. So not only can you fold racks up or down in whatever way works best for pots, pans, glasses, plates, and silverware, but you can also load larger bowls and bulky items
Antibacterial dishwashing: HygienePlus function.
The HygienePlus function is ideal for washing containers and utensils to stringent standards. During the final rinse, the temperature is kept at a constant high level of up to 70 °C for approx. 10 minutes, eliminating up to 99.99% of all bacteria and germs.
Mechanical door lock to prevent unintended access during dishwashing.
Greater overview, more convenience: TFT display.
Washing dishes is particularly easy with the new, high-resolution TFT display. It presents all activated programme information at a glance – clearly divided, very organised and thus quick to view. You can also easily and conveniently select individual programme settings.
In case there is any problem with your dishwasher, Home Connect offers the convenient possibility of remotely diagnosing it. With your permission the Siemens customer support accesses the appliance online to detect the source of error. If the malfunction can't be solved right away and a personal visit from our customer service is necessary, the professional Siemens technician will arrive perfectly prepared and with the required spare parts.
Gentle, safe, clean: the glassCare System.
The glassCare System – consisting of glass protection technology, a special gentle programme, and a heat exchanger – will wash your glassware with the greatest of care.
60 cm dishwasher
Freestanding – silver inox
Capacity: 14 place settings place settings
Energy Class: 5 Energy Stars
Energy consumption in programme Eco 50: 239 kwhper year, based on 280 standard cleaning cycles using cold water fill and the consumption of the low power modes. Actual energy consumption will depend on how the appliance is used.
Energy consumption in programme Eco 50: 0.854 kwh
Water consumption in programme Eco 50: 2520 litres per year, based on 280 standard cleaning cycles. Actual water consumption will depend on how the appliance is used.
Consumption in programme Eco 50: 2520 litres water per year / 239 kwh energy per year. Based on 280 standard cleaning cycles using cold water fill and the consumption of the low power modes.
The information relates to the programme ​Eco 50. This programme is suitable to clean normally soiled tableware and is the most efficient programme in terms of combined energy and water consumption.
Programme time in programme Eco 50: 195 min
Noise level: 42 dB (re 1 pW), built-under
40 dB
7-18 l
8 programmes: Intensive 70 °C, Auto 45-65 °C,
Eco 50 °C, Night Program 50 °C, short 60 °C, Glass 40 °C, Quick wash 45 °C, Pre-Rinse
5 Special options: Remote Start, VarioSpeedPlus, Half Load, HygienePlus, Extra Dry
Machine Care
6 cleaning temperatures
speedMatic hydraulic system
Zeolite Drying
DosageAssist
BLDC motor for heat and drain pump
Aqua-Sensor, Load Sensor
Detergent Automation
Heat exchanger
Alternating spray technique
Regenerative electronics
Self-cleaning filter system with 3-fold corrugated filter
Stainless steel
black
light curtain blue – Emotion Light
Push button top controls
TFT Display inside
Acoustic end of cycle indicator
Real Time Clock
LED colour on indicators blue/-
Electronic delay timer: 1-24 hours
LED salt refill indicator
LED rinse aid refill indicator
Stainless steel Replasa-X3
high 642 yes
Cutlery drawer 2.1
Silver XXL baskets
rackMatic height-adjustable top basket (3 stage)
6 foldable plate racks in top basket
8 foldable plate racks in bottom basket
2 lever (long/short) 2
2 shelves in bottom basket
Stemware support
aquaStop with guarantee – Prevent Water Leakage
Childproof door lock
Servo lock for effortless door closing
Dimensions of the product (HxWxD): 84.5 x 60 x 60 cm
Main
Brand
Siemens
Color
Stainless Steel
General
Built In / Free Standing
Free Standing
Type
Standard Dishwasher
Capacity
14 Place Settings
Features
Features
Aqua-Sensor, Load Sensor | Detergent Automation | Heat exchanger | Alternating spray technique
Wash System
Number of Wash Options
Auto 45-65°C| Economy| Glass| Intensive| night program| Pre-Rinse| Quick wash| Short
Half Load Wash Option
Yes
Water Consumption
9 Litres
Physical
Dimensions (H x W x D)
850 x 600 x 600 mm
Power
Power Supply
220-240 Volts
Hertz
50-Hz
Energy Rating
A+++
Power Consumption
2400 Watts
Noise Level
42 db
Other
Country of Origin
Germany
| Brand | Price | Promotion |
| --- | --- | --- |
| Sharaf DG | AED 0.00 | |
Best Price Guarantee (Check prices across power retailers. The prices shown here are provided by Price Check – a 3rd party application. Sharaf DG is not liable for the prices disclosed by the application.)