Sonashi Hair Straightener SHS-2062B
Key Information
Color:

Pink & Black

Corded:

1.8 m

Type:

Hair Straightener

Cord Length:

1.8 metre

Temperature:

150C to 230C
Details
Now straightening is as easy as brushing your hair. Forget using traditional flat irons for long hours where we'd have to brush our hair first and then use the iron ,with Sonashi hair brush straightener you don't have to do it anymore, just brush and get that perfect straight hair in just minutes. Ergonomically designed for easy use, Hair straightener comb is a adventurous combination for hair straightener and combs.Just Plug in the wire, set temperature according to your comfort and get started
3D Ceramic Bristles: Sonashi Simply Straight Hair Straightening Brushes have 10 layers of ceramic coating around each bristle, ensuring that they heat your hair safely and give excellent results right at home. The ceramic bristles transfer heat effectively to each strand as you comb while preventing any unwanted tangles.
LCD Screen: These Simply Straight Brushes feature an LCD screen on the handle to help you set the temperature for your hair. The easy-to-use buttons below the LCD screen can be used to increase or decrease the temperature.
Auto Shut Off: For added safety, this electronic brush will automatically shut down after 60 minutes. This is an ideal feature for forgetful people who tend to worry once they've left home.
Temperature Level: Heat the Sonashi Simply Straight Hair Straightening Brush up to 230 degrees Celsius or 450 degrees Fahrenheit, to get perfect results quickly.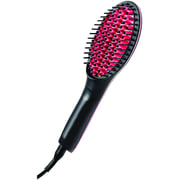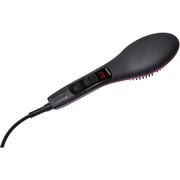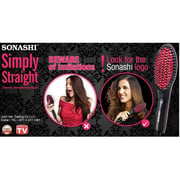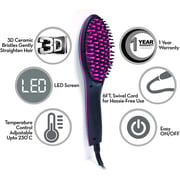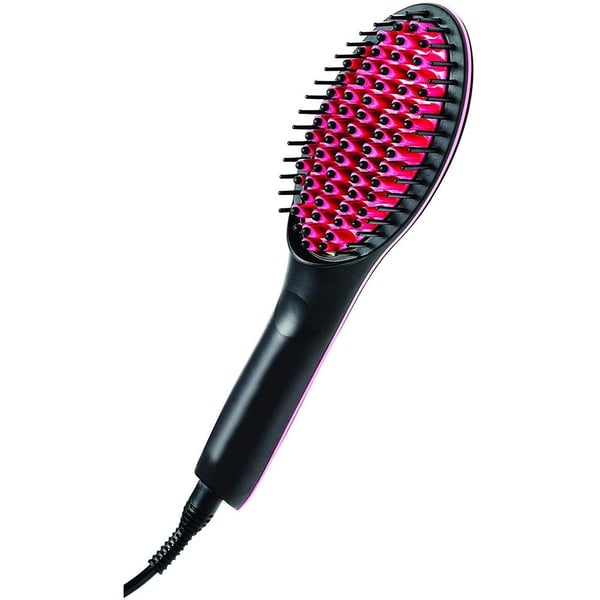 Product Overview
Overview