Key Information
Color:

Graphite Copper

Display Type:

AMOLED Display

They are bluetooth capable watches used to answer phone calls , receive alerts, read email and text messages, get a weather report, listen to music, dictate email or text messages or ask a digital assistant a question

Type:

Smart Watch

The total number of pixels on the screen, more pixels results in a sharper display

Resolution:

454 x 454

Bluetooth Version:

4.2

Capable of upgrading to future app versions and can be connected to related products

Compatible Products:

iOS and Android Devices

Battery life:

up to 2 days
Details
The Suunto 7 is a multi-functional sports watch for running. It's perfect for runners who are looking for a sports watch that tracks their daily activities and encourages and motivates them to reach their daily goals. The multisport watch has been tested in extreme weather conditions. Thanks to the Gorilla Glass lens and the use of durable, high-quality materials the watch withstands scratches and impacts. The Suunto 7 is a sport watch specially built for intensive training in rough and challenging conditions, but the watch is also stylish enough to wear as a casual watch.
The integrated GPS function accurately measures where you are. The GPS function is connected with GLONASS and GALILEO satellite signals. It measures your speed and rhythm, and the distance of your runs. The Suunto 7 features pre-programmed outdoor maps that guide you through your routes. To ensure that you don't always have to bring your phone, these routes are also available when you're offline. The Heatmaps function gives you access to the most popular routes of 15 different activities. Choose your activity, find your route and get out there.
The Suunto 7 measures your heart rate through its advanced wrist-based heart rate monitor. The watch doesn't just measure your sports performances, such as your heart rate, your VO2Max and the improvements you're making, but also tracks your daily activities like sleeping rhythm, stress level and recovery moments. The watch of course also features the basic activity tracking functions like steps counter and calories burned. The sports watch features 70 pre-programmed sports profiles; sports such as running, cycling, swimming, and fitness are of course present among these. Connect your headphones with your phone and operate your music with your watch via the Spotify application.
The Suunto 7 operates on the Google operating system Wear OS. It allows you to completely personalize your watch. Thanks to this operating system you can install apps through the Google Play store. Apps like Strava, Spotify, Google Assistant, Google Fit and Google keep are easily added to your watch. Through a WiFi connection, your sports watch will always be up to date through the automatic software updates. Next to all the already mentioned benefits, the watch also features a new and safer version of Google Pay. This app allows you to make payments with your Suunto 7 sports watch.
The battery of the Suunto 7 lasts up to 48 hours in smartwatch mode. In GPS tracking mode the battery lasts up to 12 hours, making the watch very suitable for endurance athletes who train extreme distances. Through smartphone notification, you will always be up to date. The watch is waterproof down to 50 meters.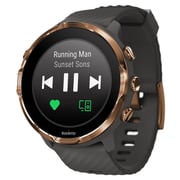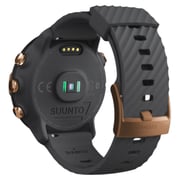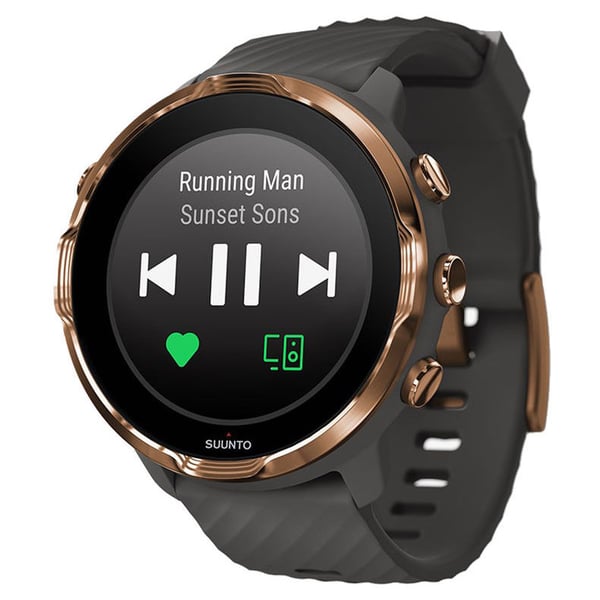 Product Overview
Overview