The Xperia Neo is every bit the evolution of the Vivaz. With a curved back that is great for placing down on a table, it also fits nicely in your hand. It offers a 3.7-inch screen in a body that measures 116 x 57 x 13mm. With a 1GHz Qualcomm Snapdragon MSM8255 chipset and 512MB RAM, it is also quite powerful. Check out this detailed review we found on www.engadget.com, that'll help you explore this phone feature by feature.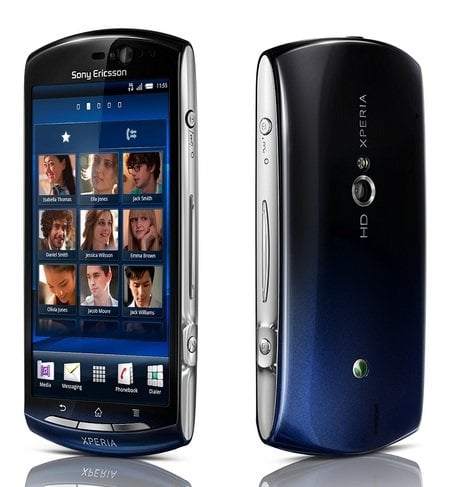 Hardware: There are plenty of well-built plastic smartphones on the market, but the Neo feels slightly more chintzy than most. This is partly due to the degree of flex in the back and sides, which can cause audible creaks when you grip the handset with any force. This was an issue at first, but the general adequateness of the build quality overcame our qualms after a couple of days of use.
The handset has a relatively flabby 13mm (0.5-inch) waistline, and we suspect this is one of the more serious comprises Sony Ericsson felt it had to make in order to hit its desired price point. By comparison, the Xperia Arc (compared in the photo below) is vastly thinner and more beautiful. On the other hand, the Neo's chubbiness is largely offset by the pleasant 126g (4.44oz) weight and the narrowness of the device — it's just 57mm (2.3-inches) wide and fits nicely in the hand and in the pocket (although, as we'll explain in a moment, this narrowness can also be annoying). It's also worth pointing out that we didn't feel compelled to wrap the Neo up in a protective case – something which can't be said of many slimmer phones that have to be bulked out with an extra layer.
If the Neo had a motto, it might be the tried-and-tested "under-promise, over-deliver." People just love to be pleasantly surprised, and that is exactly how we felt playing with the Neo's tactile buttons. These include back, home and menu buttons on the front (no search button, but we didn't miss it a great deal), and power/lock button, camera launcher and volume rocker on the side.
Sony Ericsson has been generous enough to supply an 8GB Micro SD card (expandable to 32GB), to complement the 512MB of system RAM and 320MB ROM.
The Neo has all the 2G and 3G bands needed to work around the world, including HSDPA 850, 900, 1900 and 2100. Reception in London was generally reliable on Three. The network has plenty of dead spots, particularly indoors, but the Neo's reception bars give you an accurate reflection of this, and it's possible to make decent calls on just a single bar.
Performance: The Neo shares its 1GHz processor with the Xperia Arc, which we've already reviewed in depth. There's no need for another detailed examination here, so suffice it to say that the engine will handle everyday tasks, apps and multitasking with aplomb. You'll sometimes notice a slight pause when switching between home screens or pressing the home button in certain apps, but it doesn't grate much. For the most part, you'll be able to video chat on Skype, take photo notes in Evernote and scroll Spotify playlists without issue. Likewise, the browser rendered pages quickly and smoothly. YouTube and Flash videos give us nothing to complain about, and the media player renders playlists and album covers quickly too. For the most part, the battery let us do all these things all day without dying — but we rarely had more than a few drops of power to spare at the end of the day.
Keyboard and display: Sony Ericsson makes a big deal about its Bravia Engine, which is meant to automatically adjust colors, contrast, noise reduction and sharpness to improve the quality of still photos and videos on the LED-backlit LCD. A lot of this may just be marketing babble, but that doesn't stop the 854×480 screen from being colorful and vivid, especially when playing videos. There are some things we don't like about the screen, but we could dock many other phones for the same flaws: the maximum brightness isn't quite high enough, viewing angles are about average, and the screen isn't great outdoors compared to, say, Super AMOLED Plus.
Camera: First off, the camera is extremely responsive. The dedicated camera button only needs to be held for a second to quickly load up the app and be ready to shoot in a couple of seconds. Press the shutter and it finds its focus, adjusts exposure and activates the flash (if necessary) in around a second. The phone is also blazingly quick to begin video recording.
Our 720p shots looked delicious on the phone's screen, and also when watched within a small-ish window on a PC: vivid colors, plenty of detail and no evidence of ghosting. However, things weren't so sparkly when we plugged the phone into our 32-inch TV using the supplied HDMI cable. At that size we really noticed the absence of image stabilization, as well as the high level of compression and an over-saturation of colors.
The Xperia's camera also has smart auto-exposure. We found it to be consistently correct in its decisions about which subject needed to be properly exposed, and it often found the right type of compromise in high contrast scenes. For the sake of comparison, shots that seem slightly underexposed on the iPhone 4 tended to come out bright and vibrant on the Neo — at least when viewed on the phone's LCD.
Software: Aside from the camera app, Sony Ericsson hasn't fiddled around a great deal with Android 2.3.3 on the Neo. That's no bad thing, as it's a zippy and uncomplicated OS. But one area where Sony has decided to add their own twist is social networking, in the form of Facebook contacts integration and the TimeScape widget, which aggregates your incoming SMS messages, Tweets and Facebook updates.
When you link your Facebook account, the phone populates your contacts with Facebook contacts, allowing you to see their picture, email, photos and likes. The TimeScape widget collects social networking messages into a vertically scrolling central column, which you can set to update manually or automatically (at the expense of battery life and data usage). Each message is marked with the original sender's name, as well as his or her profile picture. You also get an indication of how old the event is, plus a couple of buttons — one to reply using the appropriate platform, and one to filter other communications from that person. Serious social networkers might find the widget limiting, but they can also junk it and use dedicated apps.
Visit our store for more information or log on to www.sharafdg.com to buy online.