The Nokia Lumia 920 is one of the most highly awaited phones of the year. The Lumia series is known for its beautiful designs and innovative technology. So what happens when you add Microsoft's latest marvel; Windows 8 to it? Find out below: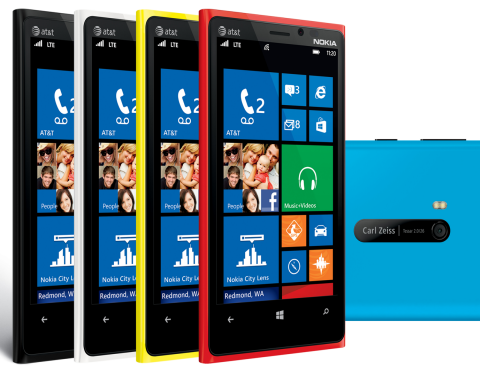 Design
It's considerably heavier than most smartphones at 5.6 oz but the solid body with rounded edges and curves makes up for the excess weight. Continuing the Lumia legacy, the 920 will also be available in a variety of colours that will make it pop and lock in more than just one way.
PureView Technology
The camera has PureView imaging technology and an 8.7 MP backside-illuminated sensor paired with an auto-focus Carl Zeiss. It also has the first floating lens. What all this really means is blur-free, crystal sharp images even in low lighting. The floating lens uses a technology which reduces the effect of even minor tremors on the image quality.
Wireless Charging
One of the more exciting features of the Lumia 920 is the built-in wireless charging feature. Hook it up to one of the charging plates, pillows, shells or stands, and say goodbye to cables. The chargers come in different colours to match the palette of the phones. On the downside, charging wirelessly takes much longer than with a cable.
Windows 8 on the Lumia 920
While we've done a detailed review of the Windows 8, here's a short overview of how it works on the Lumia 920.
The Live Tiles look vibrant and fresh on the Lumia 920's PureDisplay. The integration of Windows 8 and Nokia, which develops apps of its own are results like the Nokia Maps and City Lens. The Nokia Maps app provides superb navigation and turn-by-turn directions that are hard to beat, whereas the City Lens is Nokia's reality augmented app that is quite functional.
Other than these, the 1.5GHz Snapdragon S4 processor and the 10.8 hours of battery life (talktime only) are worth a mention. The combination of Windows and Nokia is a very good idea that works largely in Nokia's favour. If you're familiar with Windows and swear by Nokia's reliable phones, then there couldn't be a better choice than the Lumia 920.
Pre-book the Nokia Lumia 920 and the Nokia Lumia 820 by visiting any of our showrooms and get it before 6th December, 2012. For more details, click here http://bit.ly/NokiaLumiaPreBooking or visit our Facebook page.