Cooking

/

Gorenje Built In Chimney Hood WHT923E5XUK
Roll over image to zoom in
Click to expand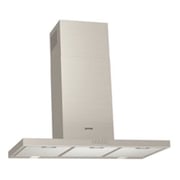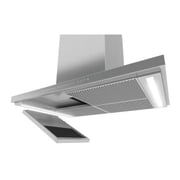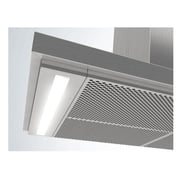 Key Information
Color:

Silver

Built In / Free Standing:

Built In

Dimensions (H x W x D):

420 x 898 x 450 mm

Installation: Not Included
Details
Gorenje Built In Chimney Hood WHT923E5XUK
Polyurethane filter Benefits of polyurethane foam
Unique aluminium grease filters are enhanced with a special polyurethane foam that eliminates up to 98% of all grease particles and other impurities. At the same time, the hood maintains its absorption efficiency.
TouchFree coating Shiny and fingerprint-free finish
All stainless steel surfaces are coated with a special TouchFree film that prevents fingerprint markings, leaving the surface always shiny and making cleaning much easier.
LedLight See what you're cooking


LED lighting provides excellent and highly efficient illumination of the cooking hob and represents an important aesthetic and functional element in the kitchen. Its useful life is thirty times as long as that of conventional light bulbs, and it saves up to ten times as much power.
Re-circulating hoods draw in steam and odour saturated air through a filter, then returning the treated air into the kitchen. If ducting for extraction is not possible, then recirculation may be another option. In this case, the air is drawn through a charcoal filter that removes cooking odours and steam, and the clean air is recirculated back into the kitchen. Cooker hoods for recirculation are easy to install and are normally used in blocks of flats where installing ducts leading directly to the outside of the building can be difficult. Extraction hoods draw in cooking fumes and trap vapours in a filter while expelling odours to the outside through a ventilation duct. You can expect to have to change the charcoal filter once or twice a year, depending on how often the cooker hood is used.
Noise level More power with less noise


In today's homes, the kitchen is a new focal point, which in turn has focused attention on noise levels produced by cooker hoods. Over the last few years, the capacity of hoods has increased significantly, and sound-absorbing materials are increasingly being used in many of Gorenje cooker hoods.
• Remember to switch the cooker hood on before starting to cook, as this maximises the hood's capacity.


• Leave the cooker hood running for another 15 minutes once you have finished cooking to remove the last few traces of cooking odours.


• Remember never to open the kitchen window when using a cooker hood, as this affects air circulation and cancels out the low pressure.


• Choose a cooker hood that is at least as wide as your hob to achieve the best effect.
What capacity do you need?
What sort of capacity should a new cooker hood have? This depends largely on the size of the kitchen. A good rule of thumb is that the hood should be able to replace the air 10 to 20 times per hour. For instance, if a kitchen measures 4 x 4 m with a ceiling height of 2.5 m, the cooker hood should replace approximately 400-800/m3 of air per hour.
Thus, the necessary extraction capacity is determined by the volume of your kitchen.


Calculation of the hood capacity that you need is:


10 x volume of your kitchen (volume = width x height x depth).


There will always be some loss of pressure when installing a hood. That is why it is important to observe the following rules:

• Always observe the hood's recommended venting diameter (O) specified on the venting tube or pipe.


• Where possible, use smooth pipes to minimise air resistance.


• Try to make the installation as short as possible and with as few bends in the pipes as possible.


• You want gentle curves in the pipe rather than sharp bends, so that the air can pass through unhindered, minimising pressure loss.